During the Mute festival at the Roundhouse in London this May, I sat down with Vince Clarke of Erasure and we had a nice chat for this Release article in connection to the new album "Tomorrow's World". Since then Erasure have embarked on two tours, starting with the Total Pop! Forest tour, which was expanded to include South and North America apart from the whole of Europe. Recently they changed the format of the tour to match the new album. It is scheduled to be released on October 3. It is the 14th studio album from Erasure and the first one since the break after the "Light at the End of the World" album released in 2007.
Between albums, Vince has been busy with the Yazoo Reconnected tour and releases and also some remixes. Singer Andy Bell, who initiated the sabbatical years has released his second solo album entitled "Non-Stop". His manager and long time partner Paul Hickey released his biography "Sometimes – A life of Love, Loss and Erasure" this Summer and it deals with his life and in particular his series of strokes that left him crippled and unable to communicate with the world around him. It is a fascinating read full with anecdotes and an insight to the life of him and Andy, from how they met and dealing with stardom, excessive drug use, plastic surgery, HIV and an emotional and lovingly told description of his way back to a more or less normal life after his strokes, with Andy forever by his side.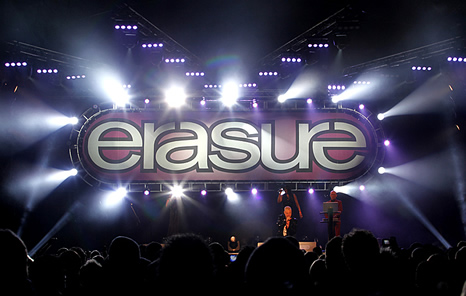 This and the previous, top image: live, Thetford Forest.
Photo by: Fredrik "Schlatta" Svensson

Mad times
In the catacombs underneath the Roundhouse there is a small room and Vince is waiting outside it for the guys from Swedish National Television SVT to pack up their things, I shake his hand as I am introduced by Tom from Mute and we enter the room. Vince tells me a joke about a three-legged dog and a bar, by his son Oscar (which I'll save for my memoirs). I get a feeling this is going to be an interesting interview.
How is the work with the album progressing?
– It is frenetic. It is mad. We spent two years on and off writing and the last sort of two months we've been producing the whole thing. We work with Frankmusik and fortunately he is very fast and good. Apart from working with us he is doing like 18 other projects at the same time. It has been quite crazy.
Is it difficult to find time to really focus on just this project?
– I have the time, but with these tours coming up my time is getting shorter and shorter, so the next three weeks will be completely mad…
So you are rehearsing for the Total Pop! summer tour as well as producing the album?
– We have been rehearsing for three weeks, but I have to finish this album at the same time, which isn't optimal.
Is there a date for the release of the album?
- There is a date, but I don't know what it is. Someone sent me an email but I never read it.
And it is preceded by a single?
– There is a single and this is an exclusive, it will probably be a track called "Save Me", but don't tell anyone, haha…
The plans for the first single changed after the band tried the track on the Total Pop! Tour; the first single from "Tomorrow's World" is "When I Start to Break It All Down)".
Any date for the single?
- Again, someone sent me an email I did not read. I f you asked me when I got married, I´d probably not remember that either, but I believe my son was born on the 10th of September, or was it the 20th…
When were you married then?
– Hm, it is the 10th or 20th, I think it is the 20th and my son's birthday is on the 10th, I'm not brilliant with dates, Vince says laughing…
The first single's release date is September 26.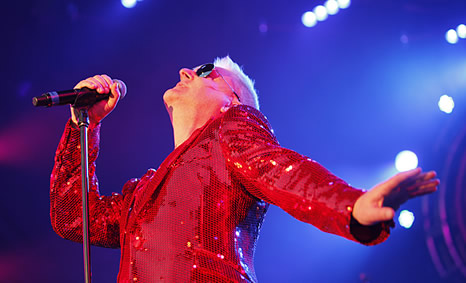 Andy Bell on stage, Bedgebury Pinetum & Forest.
Photo by: Fredrik "Schlatta" Svensson
Traversing the pond and listing things
A few years back Vince decided to move to the States and starting a new life with his wife and son and is now living on the outskirts of a small village in Maine.
Are you enjoying life in the States now? How is it compared to living in England?
– I have been living there for seven years now and I really like it, we have fantastic neighbours. We lived in New York for two years and I didn't like that very much. Where we live now it is a very friendly environment and community.
You've installed everything you need in the Cabin studio?
– Yes, it is fine now. I have been working a lot via the internet. My studio environment is now perfect I think. It not like a studio, it is more like a workshop.
Do you keep a strict time schedule?
– Yes, not because of the work I do, but more because of my family. I usually start at six in the morning and then I finish at four, that's when my son comes home from school.
Do you plan every workday in advance?
– I do yes, I make lists. I am a terrible list person, I have lists for everything…
Do you stick to your lists or are you flexible when something is no going to plan?
– Certainly, if I lose inspiration or get fed up with something or a track isn't really working, then I go to another track to see how that is. But usually I work straight through it. If I have got a task to do I just go through it, even if it takes forever.
Is that a habit from the BBC UMI-computer time where you sort of had to finish a track before moving on to the next?
– That's an interesting thought… I don't know really, I like things to be finished. If I wake up in the day and think, I really have to buy some frozen peas today and then I don't, then that really annoys me that I haven't done that task. You have to have a schedule, more so when you've got a kid.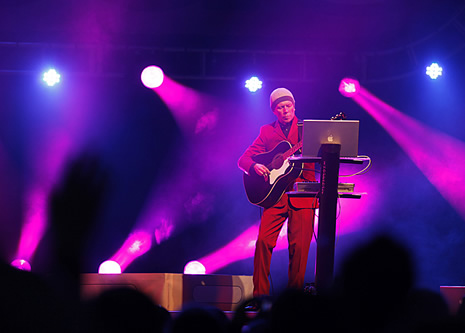 Vince live, Bedgebury Pinetum & Forest.
Photo by: Fredrik "Schlatta" Svensson
Creating something sonically interesting
When you are programming an Erasure song from a demo version, how much of the sound scape is in your head already before you start?
– I don't know, I mean if you've got the song established – you've got the chords, the melody and the arrangement basically with the lyrics it is more or less a case of experimenting and filling in the blanks. I don't have a vision of the sounds particularly, but obviously what you are trying to do is to create sounds that you haven't done before and that are sonically interesting. Of course you do repeat yourself inevitably but that is something that we try to avoid.
How are the demos created, is it a chord progression?
– Yes, and Andy singing on top of them. It is usually on guitar or piano.
And the melody is created in the programming stage?
– Yes, that hasn't changed at all through all the years Andy and me have been working together. In the end of the day, if you don't have a good song or at least a reasonable one in the beginning, then all of the faffing around in the world won't make the song any better.
How do you use technology today compared to when you started making music?
– The major change is really the fact that we do most of the demoing and the actual production on soft synths now and then I convert those sounds, or replicating those sounds using my old analogue synthesizers. Nowadays, I don't dabble as much with the analogues as I used to, like writing melodies on them. That is all done with soft synths.
So how is the technology really helping you?
– It makes everything so much faster. Now I do remixes as well, which wasn't really feasible before, it would take too much time, with soft synths it is possible to do them properly in a time frame which works.
There is a knock on the door.
Oh, there is the Knock.
– Ahh, the dreaded Knock, that might be a good band name actually… Let's hear a final question, don't mind the guys from Mute.
What would be your advice to young aspiring musicians?
– Play live, as much as possible. Don't forget MySpace and things like that if course, but play live, that' s the only way you're, one; gonna make any money, number two; get noticed and number three; get a reward. An instant reward for what you are doing, get people excited. If you are standing on stage playing a song and see all people singing the words of the chorus, there is no feeling quite like that!
Thank you very much for taking your time answering the questions, I guess you have to get ready for the show now.
– Yes we're on in twenty minutes or so I think. It sounded all right at sound check, there will be a surprise or two tonight you know…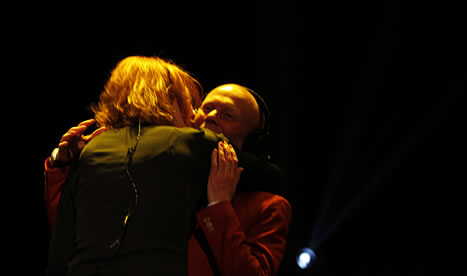 Is there a future for Yazoo or is it goodbye forever? At the Yazoo concert at Roundhouse in London.
Photo by: Fredrik "Schlatta" Svensson
Tomorrow's Erasure
Vince signed a few photos for me and I gave him a copy of my photo book for which he was very thankful. I then told him the worst joke I know and he answered laughing that it wasn't that bad actually and he might tweet it.
The gig started with a few Yazoo songs with Alison Moyet.  This was probably the last chance to see Yazoo live. Both Alison and Vince have suggested that the reunion was nothing planned years in advance and that is was possible due to the state of Erasure at the time. Alison told reporters that she thought that this was the last performance of Yazoo. With Erasure again demanding much of Vince's time I think it is unlikely that Yazoo will release new material, but then again I never thought I would get to se them live at all in the first place.
Then all the photographers were asked to leave the pit when Andy entered the stage, which was quite surprising. Nevertheless the show was fantastic with a minimal stage set and Emma and Valerie joining them as usual. Feargal Sharkey was making a special appearance at the end of the gig performing "Never, Never" which was a very nice surprise and a moment I'll treasure forever.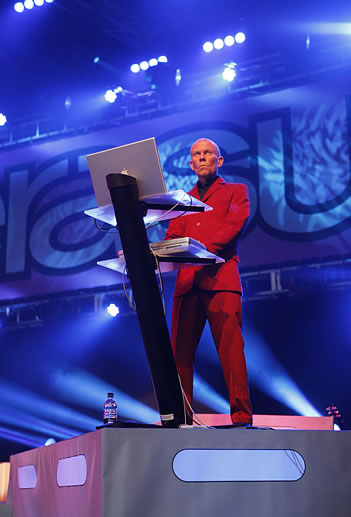 Vince Clarke live.
Photo by: Fredrik "Schlatta" Svensson
After the Roundhouse gig the Total Pop! tour continued and I had the privilege of visiting the first two show organised by the Forestry Commission in Thetford forest and Bedgebury pinetum and forest. The organisers of those show were probably the nicest promoters I have met – very efficient and extremely helpful. The setlist stayed mostly unchanged throughout the tour and as the title implies mainly consisted of singles with a few surprise tracks like "Hideaway", "Push Me, Shove Me" and "Knocking on Your Door". The stage set was a bit more elaborate compared to the Roundhouse gig, sporting a huge oval Erasure logo from the Pop! album design, LED-stands and so on.
I also went to the show in Copenhagen's Opera, which was wonderful. For the forest part of the tour the lovely Sophie Ellis Bextor opened and her new album is a must for everyone.
For the "Tomorrow's World" tour the stage set is now totally revamped and Vince's synth stand is now in the form of a gargoyle with flashing red eyes. It all looks a bit gothic and reminds me of the movie "Ghostbusters 2". Obviously they have changed the setlist to include some more tracks from the new album and "Sono Luminus" and "Alien" are making surprise appearances. For the UK leg of the tour Frankmusik is supporting. I can't wait to see them back in Copenhagen in November.