Sparks, brothers Ron and Russell Mael, have released 22 albums during the last 40 years. They have always been lurking in my record collection but I have never had the chance to see them live. Until now that is.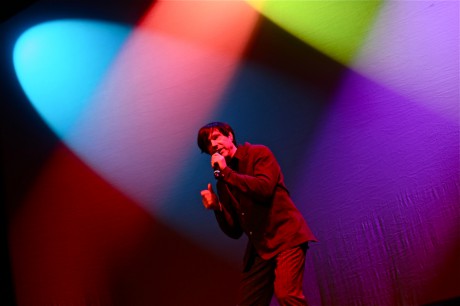 When they announced a tour called "Two Hands, One Mouth" I immediately checked whether or not it would be possible to tick a big box on the must-see live list. I always love going to gigs in London but sadly this time they played the same day in London as Dead Can Dance to which I already had booked tickets. Luckily I saw that they were to play Brighton the day before and convinced my fiancee that a short excursion to Brighton in October was the perfect idea.
The tour is a rather scaled down affair, as the tour title suggest only Ron and Russell are on stage and there were not very much in terms of stage setup or lighting, at first I thought that this was going to get somewhat repetitive and not very interesting. I was dead wrong. Ron played perhaps the largest Roland stage piano I have seen and Russell sported a greyish tweed costume with just under the knee short trousers and knee high socks. The stage presence of charismatic singer Russell made us feel very welcome into their world of catchy pop melodies, bombastic piano arrangements and the trade mark falsetto felt energetic and full of life. An impressive 21 songs were performed spanning their entire career and we were treated to no less than four excerpts from their Ingmar Bergman tribute album, "The Seduction of Ingmar Bergman".  The songs performed (which have remained more or less constant throughout the tour) were:
"Two Hands, One Mouth Overture"
"Hospitality on Parade"
"Metaphor"
"Propaganda"
"At Home, at Work, at Play"
"Sherlock Holmes"
"Good Morning"
"Under the Table with Her"
"My Baby's Taking Me Home"
" Singing in the Shower"
"The Wedding of Jaqueline Kennedy and Russel Mael"
"Excerpts from The Seduction of Ingmar Bergman"
("I Am Ingmar Bergman"/"Mr. Bergman, How Are You?"/"We've Got To Turn Him 'Round"/"He's Home")
"Dick Around"
"Never Turn Your Back on Mother Earth"
"This Town Ain't Big Enough for Both of Us"
"The Rhythm Thief"
"Suburban Homeboy"
"When Do I Get to Sing My Way"
Encores:
"The Number One Song in Heaven"
"Beat the Clock"
"Two Hands, One Mouth"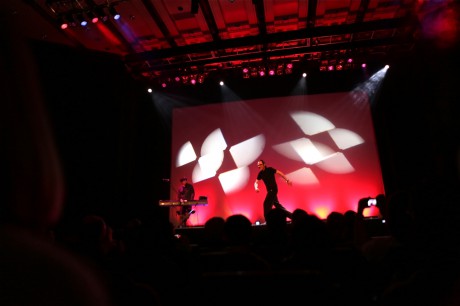 The arrangements of the songs seemed rather simple, but effective. My personal favourite song "Never Turn Your Back on Mother Earth" sounded fantastic and "Dick Around" and "This Town…" received the most cheers from the audience. Ron remained behind his electric piano apart from a brief dance session in "Beat the Clock" which brought the house down, to which Russell commented: "Mr. Ron Mael, the hardest working man in show business." Russell on the other hand danced around pretty much all through the concert but barely breaking a sweat. The sound was excellent and the minimal lighting, half a dozen moving heads at the back of the stage and some front light proved to actually be very suited to the performance.  For the encores the arrangements were a little more elaborate, a perfect ending to a nice evening at the Brighton Dome.
Footnote: Thanks to Nicola Jeffs and Hannah Milton for arranging for me to have a photo pass at the last minute.
Photos by: Fredrik "Schlatta" Svensson