Release was invited to Sonar again and we sent our London writer and photographer Mike Whyte on a plane to Barcelona. He writes: It's always nice to be back at Sonar, and this year was no exception. A little bit more commercial than in past years, especially at Sonar by Night where dance music in its various guises seemed to be the order of the day. Still, there was plenty to amuse and entertain across the 3 days, 2 locations and 8 stages.


Thursday
First on the list was a trip around the site, once I finally remembered how and where to get in (amazing what a year can do to your memory!). Once the required laminates had been secured, I was through to see some of the Brainfeeder label focus, topped off by the head honcho himself, Flying Lotus. The label acts got generous numbers, but the label owner drew the crowds with his eclectic take on the world of electronica. A thoroughly enjoyable set was unfortunately spoilt by a malfunction which cut the sound just as it was about to peak, but still there is no denying this act's talent (made evident in the second set on the Red Bull stage the following day).
Daedelus is another man who fits into this category, a real electronic music genius who I discovered by chance on my first visit to Sonar. This time he had his full Archimedes show, a moving panel of mirrors that reflected and refracted lights, to create the first of many amazingly elaborate set designs across this year's stages.
Mostly Robot next, with what can only be described as an electronic music supergroup, headed up by Jamie Lidell. Across the set there were some nice moments, but the songs only really went up a notch when Lidell's silkily soulful voice came to the fore. Masaki Batoh provided some Japanese quirkiness with his Brain Pulse music, though the surroundings were actually more impressive than the sometimes harsh sounds coming out the speakers.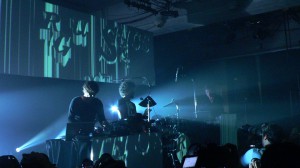 Friday
The first of the two big days, though not too much for me to get excited about during the day's events, the highlight being Mouse on Mars (pic) playing a blinding set in the SonarHall, with a live drummer adding to their harsh post-techno sounds.
No, it was all about the night for me, with a succession of top acts, one after another. Amon Tobin gave a great show with his ISAM set-up, playing from within a seemingly stacked set of boxes, projections dancing across them to create a real visual spectacle.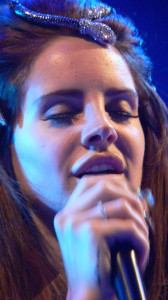 Next, Lana Del Rey (pic) – who I can only guess was here due to her real popularity amongst the Spanish crowd. Her music didn't seem to fit in with the rest of the event at all, but there was no doubting her popularity with the crowd, it was almost like seeing a Hollywood starlet of the 1960′s on stage, such was her popularity and adoration.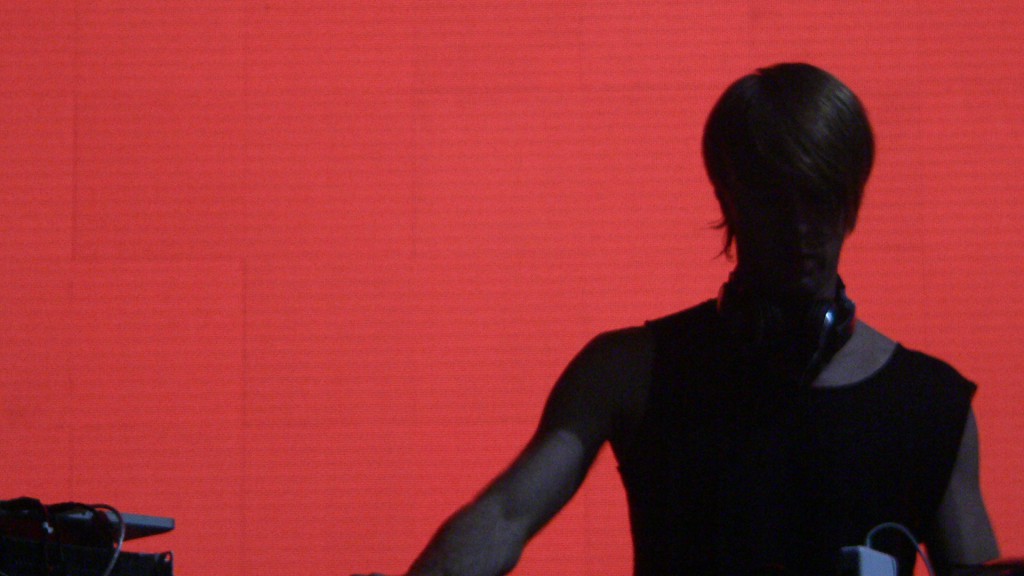 Richie Hawtin (this and top pic) played up to his legend, and provided a great moment towards the end of his set, pumping confetti out into the crowd to create a carnival atmosphere for all – the weekend had now begun.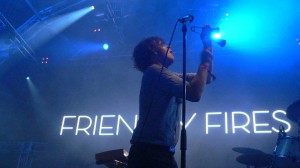 James Blake and James Murphy DJ:ed on the Pub stage with minimal set-ups but nice tunes, with Friendly Fires (pic) sandwiched in between them. Theirs was a set of popular tracks, made more danceable still under the tight instruction from the swivel-hips of the instructor and singer Ed Macfarlane.
Fatboy Slim was a big draw for the crowds, and his selection of tracks was probably the best of the weekend, a real party set from the party leader himself. Simian Mobile Disco provided retro entertainment with a column of synths and effects surrounded by swathes of dry ice.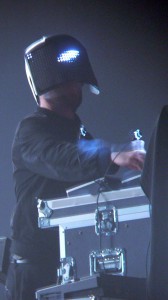 Then it was the turn of Squarepusher (pic). His new guise, all dressed in black and sporting an LED face mask, made him reminiscent of a cross between Daft Punk and Darth Vader, and his music seemed to head back to the style he had at the times of Big Loada – what a way to finish the evening…
Saturday
A little bleary-eyed, but nonetheless ready for another 12+ hours of quality music, it was back to Sonar by Day, and the chance to see some more up and coming and leftfield talent. What a lovely way to start with the angelic harmonies and brilliant production talent of Cornelius and his Salyu X Salyu project; simply lush. Cornelius has an amazing knack of making music seem retro, yet modern, and timeless at the same time, and the smiles on the majority of the crowd would suggest I was not the only one who was fascinated.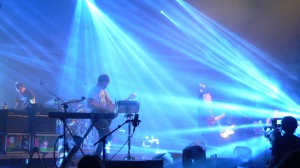 Diamond Version + Atsuhiro Ito provided some German style techno, with a rather interesting instrument/light fitting to boot. After that, it was time for a rest, then off to Sonar by Night, were New Order (pic) would be the first port of call. Minus Peter Hook on bass, New Order were still excellent, and provided my big highlight of the festival, with an inevitable, but still frankly excellent, live rendition of "Blue Monday". And how the crowd lapped it up.
It was noticeably more crowded than any of the previous times I had been here, and I think I know why, but more about that soon. Hot Chip provided some geek chic for the crowds, who loved what they had to offer, with a selection of famous tracks, and probably soon-to-be too. Die Antwoord were controversial yet compelling in equal measure, and Modeselektor provided another slab of techno beats for the masses over at the SonarPub stage.
But now for the reason I think so, so many people were here – Deadmau5. The DJ act of the moment provided a visual feast, with his trademark mouse head transformed with yet more LED's, and a set full of electro stylings. Not my cup of tea, but a spectacle nonetheless.
And so it was over, one thing noticeable for me was the variation of acts this year, which seemed to swing to the more commercial – I don't know if this was for marketing purposes, or to ensure bums-on-seats, but Saturday night was certainly the busiest I had seen. As a visual spectacle this year the standard has definitely increased beyond recognition, as acts seek to match the quality of their stage shows to the quality of their music, which bodes well for the future. So there it is, with Sonar festival, the future of electronic music is in safe hands.
All pictures by: Mike Whyte