Release's Mike Whyte reports from Sonar in Barcelona where he had a great time and caught performances with Kraftwerk, Pet Shop Boys, Skrillex, Justice, Lindstrom and Todd Terje, Karl Hyde, Atom TM and many many more.
Sonar, you frustrate me.
It doesn't mean I don't love you, but you make me tense, disorientated and constantly with a feeling of regret. I hate you for it.
Tense from all the dancing and walking around between the labyrinth of stages and venues at Sonar by Day and Sonar by Night. Disorientated, especially at Sonar by Day and the new venue at Plaza Espana – which was easily twice the size of the previous venue. The constant sense of regret came from the number of acts I couldn't manage to see across a line-up packed with must-sees, at this the 20th anniversary of Sonar.
Here's how I managed to (mis)manage my time….
Thursday
So the day began with the necessary acquisition of papers, press and photo passes, and of course, the obligatory free Sonar bag, packed with goodies I wouldn't have time to look at until I was well on my way back to London. With everything in place, it was a wander into the arena that was Sonar by Day – and what I was really taken with was the sheer size of the place –  unbelievably, considering the volume of the various stages, they were separated so well that there was no sound bleed at all. One was actually divided by floor to ceiling red velvet curtains – and felt like entering the set of Twin Peaks (though no act on the stage to my knowledge started singing backwards).
First of note for me was Rob da Bank – whose set really matched the sun streaming into the new Sonar Village, not to say acts that went before (including Jimi Tenor and Jesse or Gold Panda) were not good, just this set really made me feel that Sonar was up and running.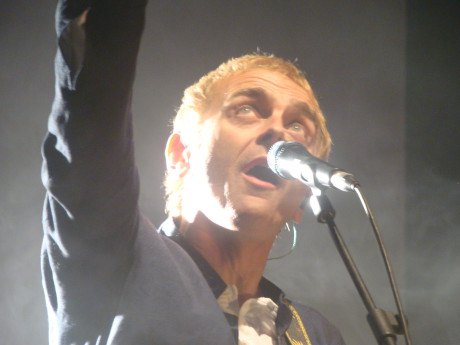 A not so quick dash over to the other side of the arena and the Sonar Hall took me to Karl Hyde (pic), and a much mellower image of the Underworld frontman. Coincidentally, the SonarHall he performed in was reminiscent of the dream room from Twin Peaks – quite fitting for the oft-surreal output of the man's former band.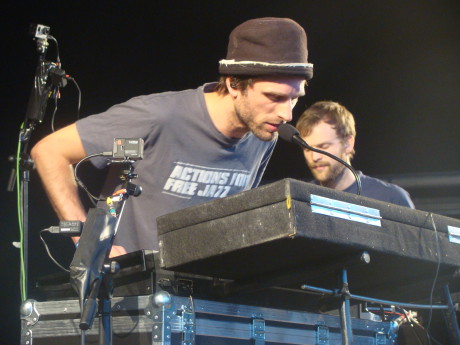 To finish off the first day, the temperature was raised as the sun started to melt away, the heat provided by the Norwegian acts of Lindstrom and Todd Terje (pic). I decided to sneak off early as the techno beats started to build up, this being my 4th Sonar I knew it was worth trying to get a good night's sleep, as there would be precious little chance over the next two days…
Friday
So, it was back to Sonar for the daytime activities – now that I had a bit more time, I was able to explore a little. The daytime venue really was huge, with a whole area devoted to cinema, seminars and promos – the business end of the electronic music industry. After a quick nosey around that area, it was back into action – and the rather interestingly titled Christeene at Sonar Hall followed by Spain's own La Bien Querida at Sonar Village.
After a little trip to Sonar Cinema to check out the programme, it was back into action as the big hitters took to the stage. First up was Atom TM, whose hard-hitting style really took the crowd by storm. After a quick dash over to the Sonar Village stage it was time to see Matthew Herbert do a DJ set of some quality. Staying on the same stage, next up was a live set from Jamie Lidell, which really had the Spanish crowd grooving along to his honeyed vocals.
A couple of songs in it was time to head over to the Red Bull stage to catch the headline – JJ Doom. Unfortunately the show was a bit of a disappointment, mainly thanks to the fact they didn't come on stage until 25 minutes after their start time, a fact many of the audience found unforgivable. Note to future performers – don't keep Sonar crowds waiting, you may find it hard to win them back. As much as I would have loved to see the Modeselektor DJ set – it was time to leave for Sonar by Night.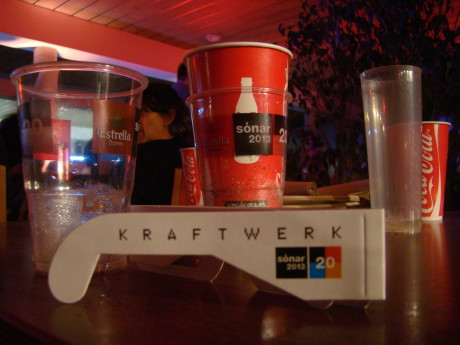 Again, there were some changes to this venue, mainly down to the size – with areas having been opened up to provide a more spacious layout. First up, and one of the headline acts, Kraftwerk. Although you kind of knew what to expect, nothing prepared you for seeing this 3D show in reality – an amazing show with a crowd pleasing set list – no real surprises, but to be expected I guess. The temptation to think "I won't see anything better than that" was obviously strong for some people, and after their set there was a noticeable drop in numbers in the main room. A shame for them really as some of the best performances of the weekend were to follow.
Bat for Lashes put in a commendable turn (though due to Kraftwerk I admittedly didn't catch too much of it). Nicolas Jaar provided some real electronica for the crowds while Baauer started off the US invasion of Sonar Club, continued by my highlight of the weekend, Major Lazer. I didn't know what to expect from them, so the full on party vibe, complete with vuvazelas being thrown out into the crowd, and a spot of zorbing over them at one stage provided a real carnival vibe, which the crowd lapped up.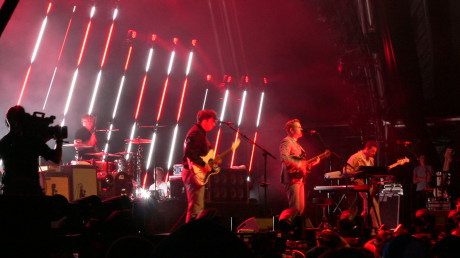 Two Door Cinema Club (pic) broke up the US dominance for me, with a trip over to the Sonar Pub stage providing good time vibes from a very British perspective.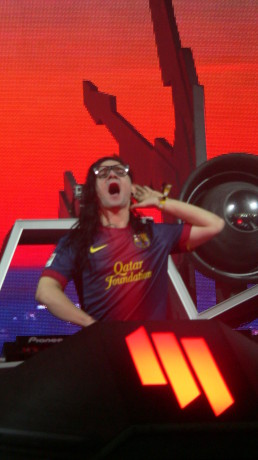 A trip back over to the club stage provided another heavy hitter. This time Skrillex (pic) – appearing in his own spacecraft – provided the EDM, and the crowd were in a frenzy – another thoroughly enjoyable set, with some real wow factor again.
The time was now 5am, but I was determined to combat fatigue in order to see two more legends at work, and so first up was Derrick May, followed by one of my previous highlights, Richie Hawtin – both masters of the turntables in their own way. An amazing night was finished, and a trip home was on the cards – after all I'd be up again in about 4 hours…
…should have made that 3 hours, as on the way to the exit I couldn't resist staying a little longer than I should have at Diplo's set, the culmination of the American takeover of Sonar Club. I had to pronounce it a resounding success, and the American resurgence of interest in dance music is in rude health.
Saturday
I was a bit bleary-eyed, but it was back into action. For me, this was the most eclectic day, and some of the most interesting acts of the festival performed – Fatima Al Qadiri brought some exotic vibes through her DJ set, then it was Beardyman who made all his music live through sampling and effecting his voice. A trip to Sonar Hall provided a very fantasy futuristic stage set from Jackson and His Computer Band, then a trip back Sonar Complex for Dinos Chapman, the artist turned Aphex Twin-alike electronic musician. A little sun and Mary Anne Hobbs DJ-ing before heading off into the fading light.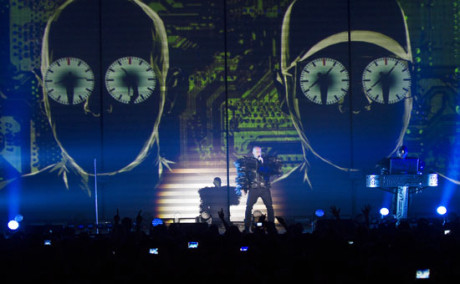 Pet Shop Boys (pic). The best set of the weekend? Well, not quite – but it was certainly up there – with a strong mix of new tracks and old, and a crowd who were more than up for the chameleon pop band up on stage. It was a triumph for theatrical stage sets, and Sonar Club provided the perfect setting for a Pet Shop Boys show. So why not the best set then? Well, if I'm honest it is more to do with the music itself – when a Pet Shop Boys track sticks to you, it sticks for good, and some of the newer material doesn't. Anyway, time for a rest… I toddle off to find a bean bag to sit on as I prepare for the final onslaught.
An hour later I'm back in action again, this time it's 2ManyDJ's – who were amazing, what they can't mix into a track isn't worth putting in.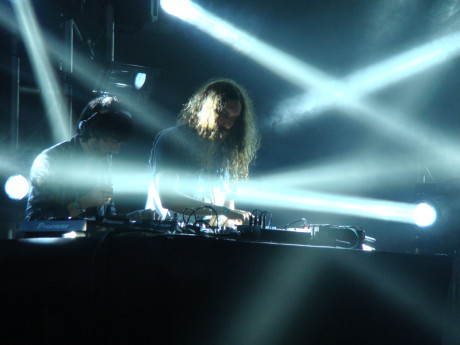 A practical sprint across the sprawling aircraft hangar that is Sonar by Night took me to Justice (pic), with a DJ set that filled Sonar Pub to the rafters. It was Sonar Pub that had the edge tonight, though Sonar Car, the stage set up with bumper cars at its heart, featured a little during these sets, thanks to a 50 Weapons showcase. Back with the Sonar Pub; following Justice we had Skream, and after Skream we had Laurent Garnier, and after Laurent Garnier we had… well, daylight. So no sooner had it begun than it was over, as always in a blur of sight and sounds.
I left stumbling into the bright sunlight – tense from the walking (and dancing) on weary limbs across two massive complexes. Disorientated from looking into the bright Barcelona sky and wondering how to get home, then how I could sleep and how I could process everything I had just seen and heard, and that feeling of regret – why didn't I stay longer at that stage, why didn't I catch the end of that set, why didn't I see that set at all? Sonar, thanks for giving me choices, and shaping my musical tastes for another year.
I love you for it.
All photos except for Kraftwerk audience and Pet Shop Boys by: Mike Whyte (Release)