Diamond Version is a collaborative project between Alva Noto (Carsten Nicolai) and Byetone (Olaf Bender), and they've released a few EP:s on Mute Records. They've opened for Depeche Mode on the latest tour, and have been working on an album to come out in June.
The first track to be released from the album "CI" (Corporate Identity, the band is obsessed with advertising and marketing) is a reworking of the old gospel hymn "Were You There?" and features Neil Tennant from the Pet Shop Boys on vocals. You can listen to it below.
"CI" features electronic rhythms, deconstructed techno and dread static, according to Mute. Other collaborators are Leslie Winer and Kyoka.
Olaf and Carsten were two of the founders of the German electronic label Raster-Noton back in 1996. The label releases minimal electronics, and has a sub label where Pan Sonic issues all its material. Other artists on the label include Atom, Blixa Bargeld and many more.
After the album, Diamond Version goes on a worldwide tour, starting in UK in September.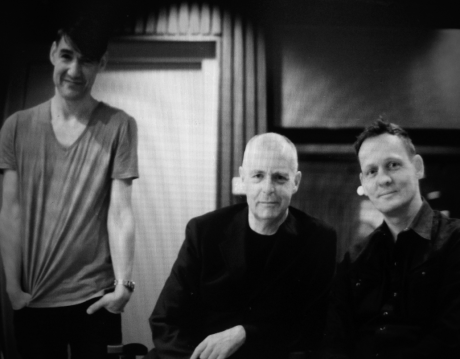 Carsten, Olaf and Neil in Hansa Studios, Berlin.