The sophomore album "Methods of Silence" by German synthpop band Camouflage gets a 30th anniversary treatment.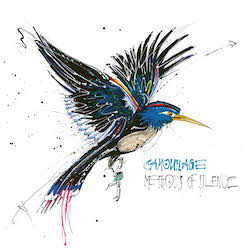 This classic, warm and beautiful album, recorded in Brussels with Dan Lacksman from Telex, will be rereleased on November 1 by Bureau B. The special bonus edition on triple vinyl and double CD will include unreleased recordings.
The first two Camouflage albums impressed me deeply at the time – finally another band that brought a lot of  the good stuff from Depeche Mode to the table, but that explored this sound universe a bit differently. Unfortunately, they did not make the same effort regarding the image and live shows but that's another story.
It was not always easy to find the records in Sweden; we had another post-punk-ish band here called Camouflage based in Release hometown Gothenburg, which led to some problems. The Swedish Camouflage finally changed the name to Tapirerna (The Tapirs) – and we're all happy the German band isn't called that.