Read extensive track-by-track comments on "Leaving Babylon" by Joakim Montelius, Eskil Simonsson and Daniel Jonasson. It's a unique closer look at an album from the artist's perspective.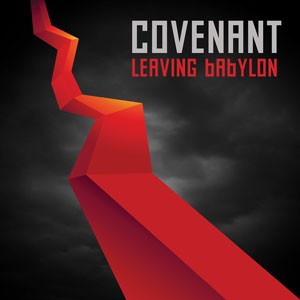 "Leaving Babylon"
Joakim Montelius: I love the beat and groove that Daniel Myer created here and how it melds with Daniel Jonasson's abstract lyrics and Eskil's voice with the vocoder. It's an excellent intro and a perfect example of how collaboration can take a simple idea much further. Suggestive, fresh and it catches my attention immediately. Destination eschaton, indeed!
Daniel Jonasson: To me, it was a challenge to take part in the creative process of Covenant. I'm not an experienced musician per se and I really liked being pushed to develop my ideas.
Eskil Simonsson: Covenant has grown into a sort of extended family and I realize now how, this is our 8th studio album that Joakim and I have recorded, we get comfortable and risk repeating ourselves. But with more people on board we're kept on our toes and discover new ways of doing things. That's a wonderful experience.
"Prime Movers"
Eskil: This song sort of captures the idea that we've had for a long time, the notion that we as human beings can create ourselves. Our actions define us and we set things in motion; we are the prime movers.
Daniel J: Good old Covenant! Hahaha. No, but it has that majestic structure and it just keeps on building, I love that. And it fits very well into the "concept" of the album, if I may say that there is a theme to it.
Joakim: I'm not quite such a big fan of this "trance-y" sound as Eskil and Daniel are, but I agree that there is a strong "build" in the track and like Eskil said, it brings out the energy of the lyrics I wrote for it. I mean, a title like "Prime Movers" could get horribly cheesy, but this isn't cheesy at all.
"For Our Time"
Joakim: Another track written by Daniel Myer and Eskil together. This almost laidback melancholy is something unique that happens when they work together. This time it's a restless sort of melancholy, a kind that I can definitely identify with.
Daniel J: It's a bit eerie, but very cool. Daniel Myer in Covenant signature, it has that special feeling that he creates. It's a very beautiful song, it's a sad one but I'm happy that we have it in the collection of songs on this album.
Eskil: It makes me feel a bit sad too. I very much enjoyed these collaborations we had with Daniel, as well as the great tracks on "Modern Ruin", and I hope we can keep doing it in the future. And of course we wish Daniel all the best for his projects. Especially looking forward to more Haujobb material, I love their last album!
"Thy Kingdom Come"
Eskil: This song is already 5 years old by now, we have performed the original demo version live many times and people kept asking for it to appear on an album. To me, it's very frustrating to try and take a good demo to the next level and in spite of many attempts we never quite got it right. But we decided to keep the demo structure and just refine it a little, less planned and more spontaneous. So I just closed my eyes and sort of drove in the dark. And it turned out really well.
Joakim: I always loved the cembalo intro with its tricky little melodic figure, but the chorus and the amazing lyrics Eskil wrote: "come Ceasar, come mother, come and tend to me", that's an amazing thing to hear. It's such a poetic, vulnerable line. I wish I had written it myself! So yes, I'm very glad it finally turned up in a studio version.
"I Walk Slow"
Joakim: Here we have Andreas Catjar in action. This song gives me goose bumps all over. I wrote the lyrics several years ago, during a very difficult time in my life and I could never have imagined them put to music in this way… Andreas' controlled chaos and lonely guitar together with Eskil's superb singing, I simply love it. It feels to me like the soundtrack to a dark moment of my own soul, a soundtrack that I couldn't hear until now.
Daniel J: This is the new deal! No, just kidding, but the instrumentation is, how should I say… daring?
Eskil: The original piece came from one of Andreas' theater music performances and I edited it down from around 10 minutes into this rather short song. I tried out these words that Joakim wrote and they just fit perfectly, the vocals were there already on the second or third take. Again, that's an example of the much more intuitive and unpolished recording approach we used for "Leaving Babylon". In a way, it's a bit of a return to the stuff we did in the very beginning. Less planning and more action.
"Ignorance & Bliss"
Eskil: Now we're moving almost 8 years back in time. We made the first demo of "Ignorance & Bliss" already for the album "Skyshaper". But it never took the shape it was meant to have and we also had enormous conflicts over it within the band. So it had to wait and we tried many times to turn it into something we could agree upon even though we all clearly saw the potential it had.
Joakim: Yes. I can't think of any song that we argued over more. Such an enormous melody and this battleship beat, but I always felt it went over the top and lacked the right substance. So I vetoed it for "Skyshaper", actually. And then Eskil brought it up again for this album. We tried to find a workaround, but whatever we did it felt like it suddenly didn't hold up and fell flat. Until suddenly Eskil realized that there was an original version of the demo with that guitar sound in it. As soon as I heard it I knew that this was what was missing and ironically it had been there all this time! Bizarre how we could make such an oversight…
"Last Dance"
Joakim: When we discussed which track should be the first single we were not sure, but what became "Last Dance" felt like the most promising idea. But, typical for this album, Eskil acted on a whim. There were several rather different versions of this song and we worked on it from quite a few angles. But as deadline zoomed at us, Eskil took two steps back and several to the side and came up with the single version almost over night. You can say a lot about working in the studio with Covenant, but it's certainly never boring!
Eskil: Yes. Finally we just let go and I'm so happy with how it turned out. I mean, it went straight to #1 on the DAC (German Alternative charts) and stayed there for the entire 8 weeks allowed.
Daniel J: I heard someone say that it kind of sums the entire album up, setting the tone. But I disagree. The album is much more diverse and it can't be represented by any particular song alone.
"Auto – Circulation"
Eskil: "Auto-Circulation" was a collaboration between Daniel J. and myself. Daniel came down from Stockholm to our studio in Helsingborg several times to work with us. First we usually just hung out, 3 guys talking and listening to music, you know, like we used to in the beginning. Like a real band! Then we worked on ideas for a couple of days and the last night we usually did something completely different, stuff not necessarily aimed to fit into the Covenant "concept", whatever that is. And one such evening Daniel J. came up with a bunch of noises and grooves that got me going and it turned into this song.
Daniel J: I come from a background as a DJ and promoter, apart from being 50% of the band Dupont. So to me it was a very different experience to work in the studio with Eskil and Joakim. It was like a, you know, real band experience. We had so many tracks, like 30-40 demos and snippets of ideas, that much of the work was simply deciding what to work on. But when 3 people can reach consensus that an idea is good enough to develop, then you can be reasonably sure that it will turn into something good. This was one of those ideas.
Joakim: I found it really productive, those weekends when Daniel J joined us. He's a great motivator and a fresh force, breaking old habits of Eskil's and mine. The particular session that brought "Auto-Circulation" actually also gave birth to the track "I Scan the Surface" from the "Last Dance" EP. And that's a rather impressive track record for Covenant to make 2 entire songs within 3 or 4 days.
"Not to Be Here"
Eskil: This is actually, more or less, a cover version of a song written by the Swedish artist Marcus Dimbodius. We played at the same festival in Gothenburg and I was deeply impressed by his subtle touch and his special sound. To me it was a new acquaintance and I contacted him later to ask if I could make a version of "Not to Be Here". It turned out that he had written the song back in 2001, so he had to go to his attic and dig out the files and some old equipment to render new audio files for me to work with. And it turned out beautifully. Right now it's probably my favourite track on the album.
Daniel J: It's like a classic Covenant outro song. Except it wasn't written by Covenant. I really like that there is so much collaboration here. It feels almost like a hip hop album, haha!
Joakim: This is another song I wish I had written the lyrics for. It's so beautiful! So sad and touching and yet, in the way that only truly heartfelt music is – hopeful. It makes me cry every time I listen to it and in my book that is some of the highest praise I can give. It means that the music and the words reach into my soul and touches me, shaking my world around. And that's what I think music should be all about. Shaking my world, giving me new perspective, allowing me to feel and think with my entire being. Thank you, Marcus, for letting us have this wonderful song!