Release Magazine's Mikael Kahrle interviewed Frank M Spinath, frontman of German electronic music duo Seabound – and a professor of psychology at the Saarland University. He talks about his unique position as a professor-musician hybrid. Nowadays, his 2 personae are in fact one and he even records at his office, he confesses. Obviously, Spinath has a unique and endless source of inspiration for his lyrics. "I have a strong personal interest in people who stray from the straight and narrow paths of life", he says.
The critically acclaimed band started almost 2 decades ago but came to a halt when second member Martin Vorbrodt started a new life in USA. He is an experienced lawyer specialized in IT and media law, intellectual property and licensing. Vorbrodt joined his firm on Wilshire Boulevard in Los Angeles in 2007. In recent years, Frank M Spinath has released records with Edge of Dawn and Ghost & Writer. But now Seabound is back and has just delivered their first album in 7 years: "Speak in Storms" on Dependent Records (Europe) and Metropolis Records (North America).


Frank M Spinath to the left, Martin Vorbrodt to the right.
"Professor-electro hybrid"
Is it difficult to step in and out of your two completely different roles as a musician and singer (in Seabound, Edge of Dawn, and Ghost & Writer) and professor of psychology? Can you please tell us a little about this unique situation and how you deal with it?
- I used to think that I was two different persons when I was working in my day job at the university versus when I was making or performing music. But these two personae are in fact one, and the separation I may still have felt ten years ago, has given way to a natural and unpretentious blend. I even record in my university office. It may look a little surprising to the unsuspecting visitor to find part of my office space occupied by preamps, microphones and additional sound tools, but as long as it doesn't get in the way of the quality in my research and teaching, why would anyone care.
Are your colleagues and students at the University aware of your music career – and if so, do they comment on your music, visit the concerts and so forth?
-  Some of my colleagues take a greater interest than others, and a few have in fact attended shows of ours. I am aware that sometimes students of mine attend Seabound shows. Now that reminds me of the recent story that Skinny Puppy's work was allegedly played in Guantanamo as a means of torture (laughs). I am not working in the clinical field, I am not treating patients. Personally, I love to discover new layers and surprising facets in people I meet, and typically, the professor-electro musician hybrid I am is greeted with friendly curiosity.
You process fissures within the identities of your protagonists. Can you tell us more about how you draw inspiration and use stories and experiences from your work when you write the lyrics? This if course a sensitive matter so I presume you only loosely use bits and pieces?
- My own research focuses on how genetic and environmental influences shape how we are. In addition, I have a strong personal interest in people who stray from the straight and narrow paths of life. Taking these two lines together, you end up studying a wide range of behavioral patterns that some people would probably find disturbing. But it gives me endless inspiration for mind games and lyrics.
About the new Seabound album
Are you pleased with how "Speak in Storms" turned out and how important is to you how it is received?
-  Martin and I are extremely pleased with "Speak in Storms", both musically and visually. After the long silence in terms of studio album releases from Seabound, the feedback we receive from listeners and fans is particularly important because no matter how often you keep repeating the line "I am doing this for myself"; you have to face the fact that this is only part of the truth. Fortunately, we've been rewarded with a very positive reception so far.
"Speak in Storms" is perhaps more atmospheric, moody and mature than your previous albums. How would you yourselves describe your own sound and how it has evolved?
-  I agree with you in that there are quieter passages on "Speak in Storms" than ever before on a Seabound album, because we now allow for more uneventful moments within a song. Is it a matter of maturity? I guess, one could say that. Fifteen years ago, we might have filled those silent moments with swirling musical FX, and as a consequence ruining them to some degree (laughs). There is a greater and more natural depth to our music now, which carries the weight of what we put into the music personally.
Can you share some of your thoughts behind the title and overall theme of the album?
-  I came across the expression "speak in storms" in the work of 18th century writer Oliver Goldsmith. Before that, I had been reading various works of Oscar Wilde again, so the language and poetry of past centuries artists must have primed my thoughts for some of the lyrics on the new album. To me "Speak In Storms" is first of all a request to stand up for what you feel, make an effort to be heard, and let out what's inside. It also has a more humbling aspect to it that is revealed through the album's artwork because whenever we compare our fury to the forces of nature, we are reminded of the nothingness of our personal affect and effect.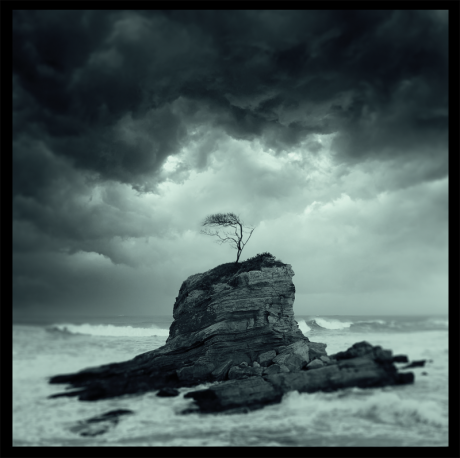 Across the ocean
Why did it take you so long to release a new album? Obviously the distance and your careers are two of the reasons but could you elaborate.
- Certainly, one reason for the prolonged silence was Martin moving to the United States in 2008. He needed to concentrate on restarting both his private and professional life, which obviously absorbs a lot of time. Plus, his complete studio had to be shipped over to the US as well, and there were several setbacks before everything was fully operational again. However, we started working on new material two years ago, exchanging musical and vocal snippets over the Internet. The whole endeavor gained significant momentum when it became obvious that we were moving towards creating a true album again, that is, something bigger than the sum of songs.
You can work over the Internet but a lot of things can only be done when you are in the same place – like tour rehearsals or photo sessions. How hard is it to live so far apart?
-  Actually, we don't even have the time to rehearse or arrange joint photo sessions. Martin is currently preparing live tracks in the US and exchanging tracks and samples with Daniel, our drummer, and me so that Daniel can program his drum set and get acquainted with the new songs. We discuss how we want to present the songs online and we incorporate changes that are suggested throughout the process. We are a pretty well rehearsed team in that respect and we'll play our 100th show in the course of the planned "Speak in Storms" tour in April 2014.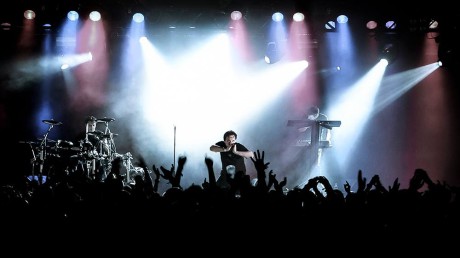 What can we expect from the new tour and how does it feel to go on stage again? How do you think the new songs will work live?
- First of all, I really missed touring with friends. I would go as far as to say that Andrew and Reagan from Iris are like really good friends of mine, although I haven't seen them in years now. For our joint European tour in April, they'll even bring Ned Kirby (Stromkern) along, another great guy who we toured with very early in our musical lives. I am looking forward to having these people around, making music side-by-side, travelling with them.
- Then, there's the desire to present the new songs live. A Seabound live show offers a more candid view on our music because on the album you can hide and keep re-working details until everything is perfect to your ears. Similarly, you can manufacture the image until you are pleased with what you see. If you go on stage, you need to unveil and perform there and then, which leaves part of you unprotected. I love that vulnerable side to our musical work.
Seabound thoughts and plans
Any thoughts about the current music scene (your style) and any artists that have impressed you lately?
- I recently got my kicks out of music in unsuspected territory. A short piece by US pianist and composer Dustin O'Halloran blew me away. Or it can be a monstrous electro-mayhem live set by my friend Ben Lukas Boysen of Hecq that leaves me flabbergasted. I am more open to the immediate effect of (any kind of) music now instead of the "within-genre" daily meal treat. I'd love to see people check out Krister Linder and Architect rather than wasting time on the next goof from "within the genre".
You have put a lot of effort into the design and especially the Tempest Edition but you have not released a single or a video beforehand, for instance. Was this the plan – to put all energy into the actual album?
-  We wanted a strong album and strong bonus material for the limited and Tempest editions, but we were not looking for a particular song to be set apart as a standout track. I know that quite a few people consider "Black Feathers" to be a standout song and the "Requiem" version from the bonus-CD to be a masterpiece. Others look for up-tempo songs that have a lighter feel to them and prefer "Everything" or "Nothing But Love". I really want to present a selection of tracks and reworks instead of choosing a single and trying to promote the hell out of that.
Do you have any plans for future activities, like an EP or remix album, US tour or video?
- People have asked us to launch a remix competition but, frankly, I have mixed feelings about that. Instead, we plan to put together a tour CD with unreleased material available at our gigs. There is talk about a possible US tour in the second half of the year, but that's still so early in the making that I wouldn't want to lay false trails now. All I can say is that we'd love to come back and play for our US friends.
Read more
Release Magazine's "Speak in Storms" review by Johan Carlsson.