Last week Release was interviewed by Electronic Summer co-organizer Henrik Wittgren and now it's our turn to take a closer look at this week's festival on August 29-31. DAF, Page, Tyske Ludder, Apoptygma Berzerk, Spark, Vanligt Folk, S.P.O.C.K, Mr Jones Machine, Julian & Marina, Alison and Machinista will perform alongside numerous DJ:s. Read some wise words about the current state of the Swedish "synth" scene and learn a little bit about how a festival organizers think.
Putting together a 3-day synthpop and EBM festival in Sweden 2013 is indeed a risky business. Electronic Summer is organized by Depeche Mode Party (Sebastian Hess, Wonderland Records, and Henrik Wittgren, Saturn, Plasticity, Synthbar, Electropolis). A couple of Release staff members are also involved with stage production, DJ:ing, photo exhibition, Depeche Mode Collectors' Talk and more. Release is an Electronic Summer supporter and media partner. The major events are crucial in order to keep the scene alive.
I asked Henrik Wittgren if things are looking good so far.
- Generally most things are in place and we feel confident that we can deliver a great festival experience. The ticket sales rate has increased during the last 2 weeks, so there is no need to wait if you want to buy a ticket. This year you can buy any 1-day ticket, 2- or 3-day tickets. Of course we can't guarantee all tickets wont be sold out, but if any left, it will be possible to buy at the entrance.
What's your thoughts about the Swedish "synth scene" that Electronic Summer is built around?
- The Swedish synth scene as of today is generally a rather nostalgic thing. Most of the audience was around already 10 or 15 years ago. Some are even bringing their kids when possible. There is plenty of new good electronic music out there, but it's often not always classified as "synth" anymore (even though it sounds very similar). The subculture is built around other things such as image, style and perception. This has caused stagnation in the scene itself as most younger acts won't connect with the synth culture. However, music in general of today is more electronic than ever before, so we shouldn't complain. We just have to understand that the music and the subculture is not always the same thing.
The average age of the audience is high and increasing still. How can you attract a younger audience?
- There is a younger audience listening to electronic music. However, I feel they rather want to build their new own subcultures than connecting with their parents. There are many styles related to the classic 80:s and 90:s synth, but today's electronic music is much more scattered. Futurepop and aggrotech might be examples of newer music that is closely related. We found it hard to mix between the genres too much, just because of the simple fact that most people want to connect to "their" subculture, and do not really feel they fit in with the newer styles or vice versa. Of course you can get a younger audience, but then, it gets harder to mix it with the classic synth audience.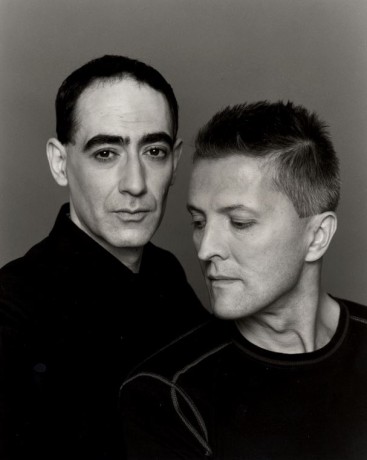 Electronic Summer is broader this year with harder acts like DAF (pic), Tyske Ludder, Spark and Vanligt Folk. Are you pleased with the line-up?
- This year it took a lot more work to put together a good mix of bands and create a solid line-up. After many long nights with lots of phone calls and e-mails we finally brought the line-up together, a line-up we are very proud of. Our aim has been to create a good mix between bigger and smaller bands as well as between EBM and synthpop. We have worked hard to book both international headliners as well as local newcomers. We also would like to spice up the festival with more than just the live acts, such as DJ:s and other happenings (photo and art exhibitions, competitions etc). For us the whole festival experience is the important thing, so we would not like to mention specific bands.
Is it hard to find the right bands at the right price? Please tell me about the booking process?
- Yes, it is definitely hard to book any bands without making a financial loss. When booking the bigger acts, there are "hidden" costs such as rent of additional audio and light requirements, drinks, flights, local transportation, hotel nights etc. When booking the bands we always start with a personal wish list in combination with requests from guests. However, in many cases it is not possible to get exactly the bands we first think of. This is caused not only by the price, but also some bands cannot make the dates, and/or would like to do something else than a festival gig. We can see that this autumn a lot of the bands on our "wish list" wanted to do their own shows in Gothenburg/Sweden instead of a festival. We really had to work hard to make it this time, but fortunately we came our with a very good line-up.
I know Electronic Winter 2014 will not happen, but I guess Electronic Summer will return 2014 now that the 2013 edition appears to be successful?
- We cannot promise an Electronic Summer 2014. In September we have to sit down together and give it another thought based on the 2013 experience. We put a lot of hours into this and there is also a big financial risk involved for us personally. However, we love the music and making events, so of course we hope we can come back again 2014 with another festival. We do not want to repeat the same thing over again, so if there will be a festival next year, at least something will be changed. This year we added the Thursday, and made some changes in stages etc. There are also other things involved to decide if there will be a festival 2014 or not. For example the number of other events, if interesting bands are available etc. Unfortunately we are always dependent on a lot of external factors.
You have your indie club Saturn and we know of the Electronic Autumn event in October where Thermostatic and Melotron will play live. Any other plans?
- Electronic Autumn will be a smaller event, basically bringing some of our favourite bands together to celebrate co-organizer Sebastian Hess' 40th birthday. Apart from this we plan to do something in connection to the Depeche Mode concert in Gothenburg later this year, but we have to come back with the detailed plans. Now the focus is 100% on Electronic Summer.
Main photo: 2012 audience by Fredrik "Schlatta" Svensson