This was my (Johan Carlsson's) second visit to the excellent Electronic Summer festival in Gothenburg. It's a very cosy festival located at the Brewhouse venue, with a superb small outside area, lots of dance floors as well as a big main stage. A perfect place to wander around talking to people and listening to great music. Here's my report and below, a photo gallery by Jan-Erik Saarinen.
On my way to the flat I was staying in for the weekend, I bought a travel card by a cashier at Pressbyrån who wondered what I was doing in town.
- Going to a music festival.
- What kind of music?
- Synth.
- …Well, that's OK too.
Let's just say that synth hasn't met with mainstream approval yet, 2015. Electronic Summer still boasted that this was the first time they had sold out completely before the event, and according to organizers Sebastian Hess and Henrik Wittgren there were close to 1000 people at the Brewhouse.
The day before I arrived there was an opening party as well, with some smaller bands like Destin Fragile and Xhile playing. I've only heard good things about that evening, but can't pass personal judgement.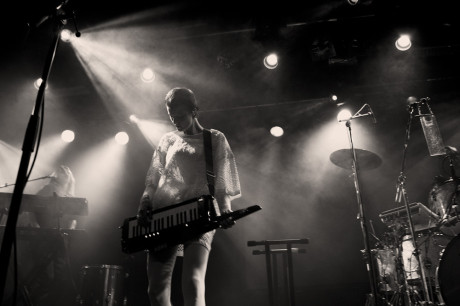 Karin Park with her keytar.
Day 1
The main attraction at this years festival were scene giants VNV Nation who were actually playing two different gigs. They had the honour of both opening the festivities by playing at 19:00 on Friday and closing them on Saturday night. The opening concert was an old school gig with lots of songs they haven't played in a long while, which got a great reception from the fans. Ronan was as entertaining as ever, and has really turned out to be one of the best front men in the scene, even though his voice is a bit uneven at times.
I walked outside to get some air and ended up right in the middle of a party! Virtual Voices were playing on the "Outsider" stage on the terrace with their humourous, catchy synthpop and the excited crowd was really into it, singing along to every line.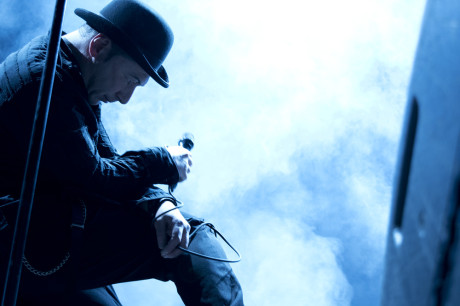 Darrin Huss (pic) in Canadian classic synthpop band Psyche has got one of the best voices in the electronic genre, something he was keen to show off at the Psyche concert on the main stage. His dancey, moody synthpop didn't draw as big a crowd as it should have, but he's been here before a couple of times. The people who were there enjoyed the quite minimal set, with just Darrin and a keyboard player. But they gave it all.
After some mingling and drinks it was time for the highlight of the evening for me. Karin Park is not a newcomer but a rather fresh face for this audience, that seemed to embrace her suggestive and dancey kind of synthpop. Karin had brought a female keyboard player, and her brother was playing the drums as usual. They all created an organic but still very electronic sound. Karin turned the main room into a dance floor, banging on drums, playing a moog and rocking a keytar, in style! Great stuff. Do check her out if she's playing near you.
The first night ended with Project Pitchfork who has been around for a long time, but singer Peter Spilles still looks young and spry on stage. He forgot the lyrics a couple of times, but the crowd was into it. Project Pitchfork is a bit hit and miss for me, but they do have some great songs. Some of these weren't played until the end of the show however.
After navigating the late night public transport in Gothenburg, I fell into bed totally knackered.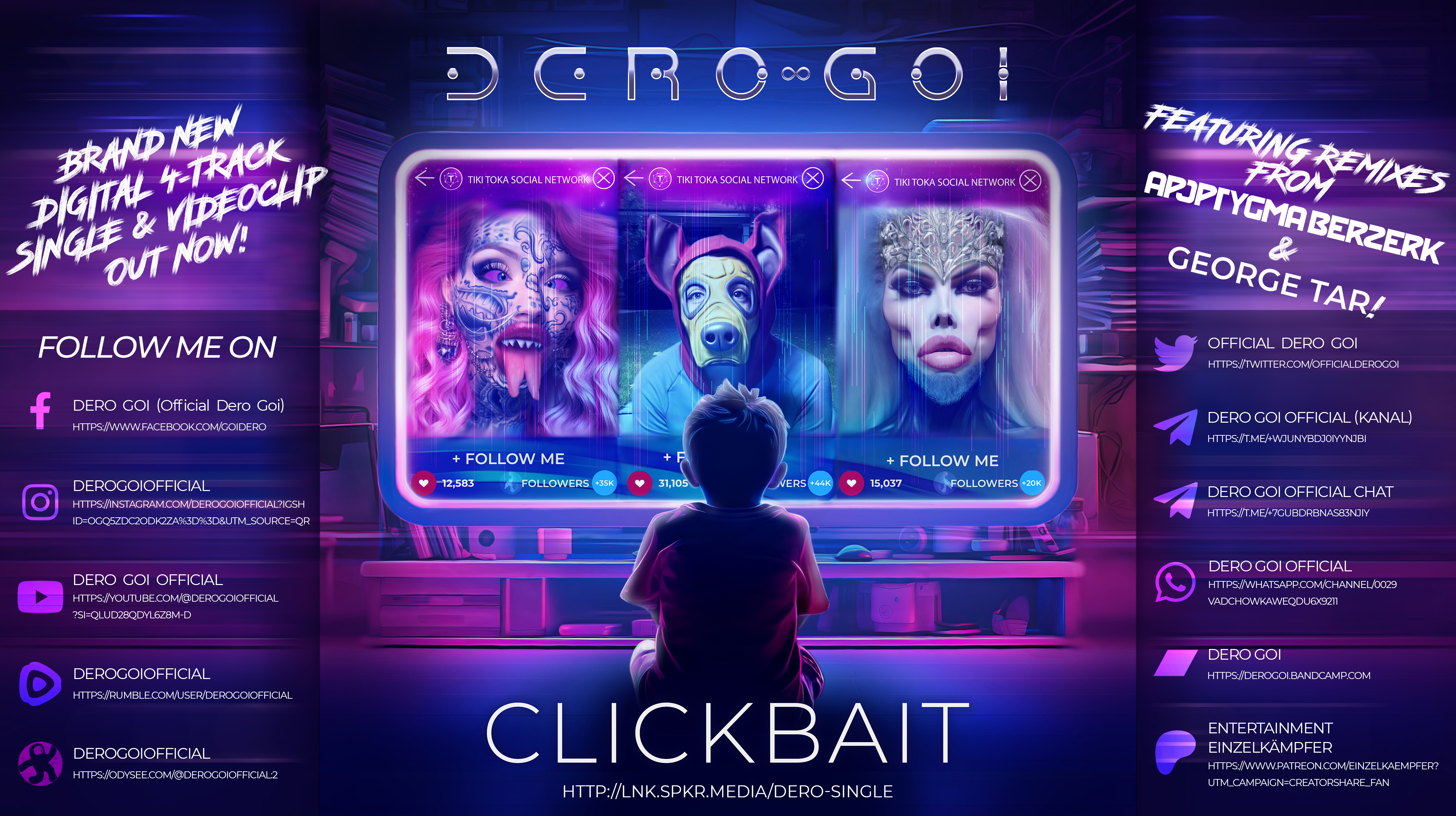 Day 2
Day two started in old school EBM style with Sturm Café. Drums and vocals only, and even though it was the first gig of the day, people were really into it, especially the hits like "Zombiejäger" and "Stiefelfabrik".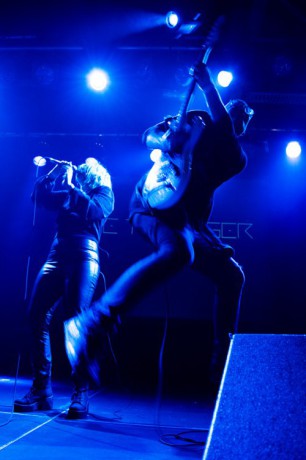 Me the Tiger (pic), who are on EBM band Funker Vogt's "own" label Repo Records in Germany, had travelled all the way from Falun, but said going to Gothenburg was like coming home. Of course this got a big cheer from the audience, who were very appreciative of the electronic pop streaming out from the female fronted band. The band gave it all, to the point of breaking the kick drum so they had to get a new one before playing the last song.
Psyche played a small, bare bones gig on the outside stage, one meter from the audience. It was a quite fun, short gig and the band played some more unknown tracks.
The greek synthpop act Marsheaux (pic below) played a mix of their own songs and stuff from their latest Depeche Mode cover album "A Broken Frame". The two girls had brought two guys on keyboards, starting out in paper dog masks that looked kind of creepy. They had really beautiful video projections behind them, with a slight Corbijn feel to them. The Depeche stuff might have gotten a bigger response, but it's hard to tell.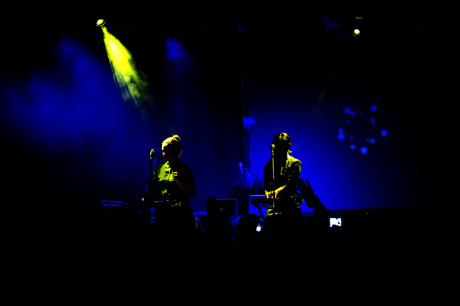 After that I had a short break, before going up to the Pet Shop Boys dance floor. One hour of pure PSB had me going real good so I was gladly dancing away for the whole time. Great selection, but then I had to rest for a while again. I'm not getting any younger…
Well, I had to strut my stuff a little to the Italo dance floor, because, you know…, I had to. By then it was time for the main event.
Starting about 10 minutes late because of some technical issue, VNV Nation quickly reaffirmed their loving relationship with the Swedish audience. Playing a two hour "hits" gig Ronan had the crowd in his hands from song one, and the singing and dancing was crazy! The hits just kept coming, and the room quickly turned into a sauna.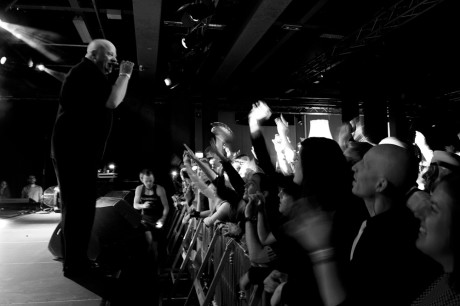 To sum it up, I had a lot of fun during my stay in Gothenburg. Electronic Summer is a superbly organized festival, and the venue fits perfectly. Everybody I talked to said they had a great time as usual, and hopefully we'll see an Electronic Winter before next year's festival too.