Today it was announced that Depeche Mode's 3DVD "Video Singles Collection" will be released on November 11. This is the first band-approved, official archival title to be released by Sony with more follow.
Sony (SME) acquired rights to the vast Depeche Mode catalogue in July 2015. In today's press release, the company call their new band "post-punk pioneers".
The triple DVD digipak will hold over four hours of original single music videos from 1981-2013. There will be a total of 55 newly restored videos in addition to four rare alternative videos. The release includes newly recorded commentary by the band members on individual clips.
- Videos have always played an essential part in how we wanted to present Depeche Mode's music to the world. It's been amazing to go back and relive all the experiences and memories these videos evoke after all these years. It's incredible to have all our videos finally together in one place and we're hoping our fans enjoy this journey through time as much as we did, the band says in a statement.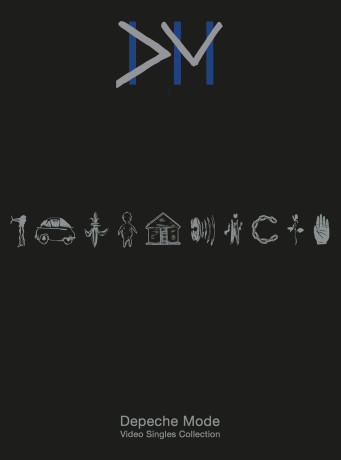 Video clip list:
Just Can't Get Enough (directed by Clive Richardson)
See You (directed by Julien Temple)
The Meaning Of Love (directed by Julien Temple)
Leave In Silence (directed by Julien Temple)
Get The Balance Right (directed by Kevin Hewitt)
Everything Counts (directed by Clive Richardson)
Love, In Itself (directed by Clive Richardson)
People Are People (directed by Clive Richardson)
Master And Servant (directed by Clive Richardson)
Blasphemous Rumours (directed by Clive Richardson)
Somebody (directed by Clive Richardson)
Shake The Disease (directed by Peter Care)
It's Called A Heart (directed by Peter Care)
Stripped (directed by Peter Care)
But Not Tonight (directed by Tamra Davis)
A Question Of Lust (directed by Clive Richardson)
A Question Of Time (directed by Anton Corbijn)
Strangelove (directed by Anton Corbijn)
Never Let Me Down Again (directed by Anton Corbijn)
Behind The Wheel (directed by Anton Corbijn)
Little 15 (directed by Martyn Atkins)
Strangelove '88 (directed by Martyn Atkins)
Everything Counts (Live – from "101") (directed by D.A. Pennebaker)
Personal Jesus (directed by Anton Corbijn)
Enjoy The Silence (directed by Anton Corbijn)
Policy Of Truth (directed by Anton Corbijn)
World In My Eyes (directed by Anton Corbijn)
I Feel You (directed by Anton Corbijn)
Walking In My Shoes (directed by Anton Corbijn)
Condemnation (Paris Mix) (directed by Anton Corbijn)
One Caress (directed by Kevin Kerslake)
In Your Room (directed by Anton Corbijn)
Barrel Of A Gun (directed by Anton Corbijn)
It's No Good (directed by Anton Corbijn)
Home (directed by Steven Green)
Useless (directed by Anton Corbijn)
Only When I Lose Myself (directed by Brian Griffin)
Dream On (directed by Stephane Sednaoui)
I Feel Loved (directed by John Hillcoat)
Freelove (directed by John Hillcoat)
Goodnight Lovers (directed by John Hillcoat)
Enjoy The Silence '04 (directed by Uwe Flade)
Precious (directed by Uwe Flade)
A Pain That I'm Used To (directed by Uwe Flade)
Suffer Well (directed by Anton Corbijn)
John The Revelator (directed by Blue Leach)
Martyr (directed by Robert Chandler)
Wrong (directed by Patrick Daughters)
Peace (directed by Jonas and François)
Hole To Feed (directed by Eric Wareheim)
Fragile Tension (directed by Rob Chandler and Barney Steel)
Personal Jesus 2011 (directed by Patrick Daughters)
Heaven (directed by Timothy Saccenti)
Soothe My Soul (directed by Warren Fu)
Should Be Higher (directed by Anton Corbijn)