The annual EBM party Bodyfest was held at Nalen in Stockholm on November 1 2014. The lineup consisted of 7 bands, crammed into one evening: 11 hours of EBM to be expected. Here is Fredrik Wik's report, followed by his extensive photo gallery.
I was granted a photo pass by the well-organized promotors and arrived to Nalen just in time to catch the first act EkoBrottsMyndigheten; well that was what I thought. There were 2 stages inside Nalen, the large one being fantastically grand and beautiful, the smaller one… not so much, but at least it was intimate.
EkoBrottsMyndigheten should have started at 4:30 PM but there was a delay of half an hour, reasons unknown. I was told that one of the other band's airplane was delayed so my guess is that moved all performances ahead a bit. EkoBrottsMyndigheten plays old school EBM and despite not being my favourite band they always seem to entertain the crowd. The concept is a bit juvenile and the lyrical proficiency ranges from singing about Jägermeister to, uhm, well Jägermeister… or sometimes beer. They played their most well-known songs, my favourite "Kängdans" twice even. In true EkoBrottsMyndigheten style they performed a fairly new song and despite having lyrics sheets they managed to foul it up, blaming their welding-glasses. I have seen this before at their last gig in Gothenburg. A friend later stated that lyrics sheets are body. It is not. It was overall a good, albeit late, start to the festival in my opinion. Too bad they weren't allowed to use smoke machines on the smaller stage. And too bad that the stage was about 30 cm high with no barrier.
Next up was Belgian band Juggernauts, the brainchild of Peter Mastbooms (The Klinik) and Glenn Keteleer (Radical G). I really like them, in my mind it is a mixture of fairly early Front 242 and The Klinik (go figure) and they were the only ones using the huge projector screen, showing blurred Front 242-style videos. It was entertaining and their costumes were fantastic – pilot style helmets and dark uniforms with shoulder pads the size of Manhattan. The sound was a bit weird at the beginning of the show, it felt muffled and non-dynamic, but at the end it sounded pretty good.
Only the first and last band played on the smaller stage, generating a pause between all bands more or less for set changes. There was merchandise for sale and DJ:s playing so there was always something to do but maybe they could have had one more band playing the smaller stage too or even cut one or two bands from the lineup. 11 hours is a quite a long time for a one-day festival with nothing but nuts to eat.
Swedish EBM band Dupont went back to their roots in their set. Rickard Svensson and Daniel Jonasson were joined by former band mate Johan Damm on stage. Johan sported a kilt (which is always nice) but the white shirt and climbing boots made me think of Axl Rose. But hey, what artist wear and do not wear isn't that important to me. They played their early hits like "Behave" and I can't fault the set list, however the band had invited (as they sometimes do) other people on stage. For this concert they decided that Gustav Jansson of Sturm Café fame was to be an accountant behind a desk, which I guess was fairly nice, odd and quaint. Their inclusion of a guy on an exercise bike and the hugest guy I ever seen holding a scantily clad lady on a leash was perhaps not. Dumbells, asscrack and a rack of immense proportions defying the lays of gravity left me with a sour taste and I went to the smaller stage finding out that the DJ playing on the small stage was very skilled and I enjoyed his set instead.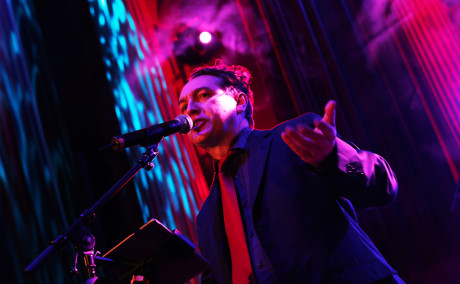 The fourth band was The Cassandra Complex (pic), self-proclaimed inventors of cyberpunk. The Bodyfest manifest tells us that The Cassandra Complex is gothic, EBM and industrial, all at the same time and lead by the dark and powerful voice of Rodney Orpheus. I agree with the first and the last statement. More gothic than anything else, not so much EBM, their fans seemed to enjoy it, and so did I. They played a good mix of songs from their entire career.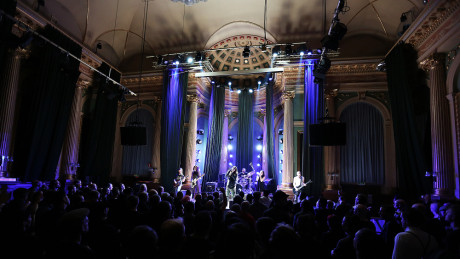 Next up, Slovenian band Borghesia (pic). Maybe the band I looked forward to the most of the entire festival. I was disappointed. What for me has always been a band of technical exploration and societal challenge, was transformed into some weird neo-folk rock band (don't get me wrong, I like neo-folk in general, when I am expecting it), demolishing the old hits and playing new songs at least I didn't want to hear. I am so sorry Dario Seraval, maybe I don't understand. I don't mind the aging or long the hair, I don't mind that the energy isn't what it perhaps once was. I just didn't like the performance. At least the second song they played was "Ni Upanja, Ni Strahu" ("No Hope, No Fear") so I could tick that off my list of songs to hear live before I die.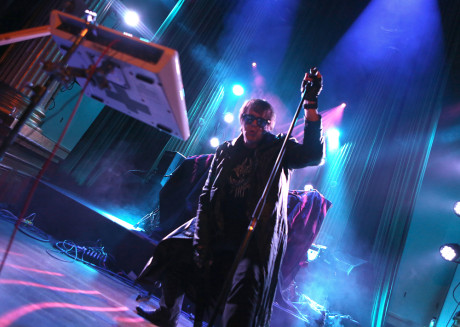 Second to last and final act on the main stage was Belgian veterans A Split Second (pic), playing their second gig at Bodyfest (the first was in 2011). I like A Split Second and Marc Ickx, Djuro and Roel Eysackers really delivered a great old school set. It was as hard and fast as you could expect and by the time they unleashed "On Command" I had put my camera bag away and was dancing along with my friends. It was the highlight of the evening thus far.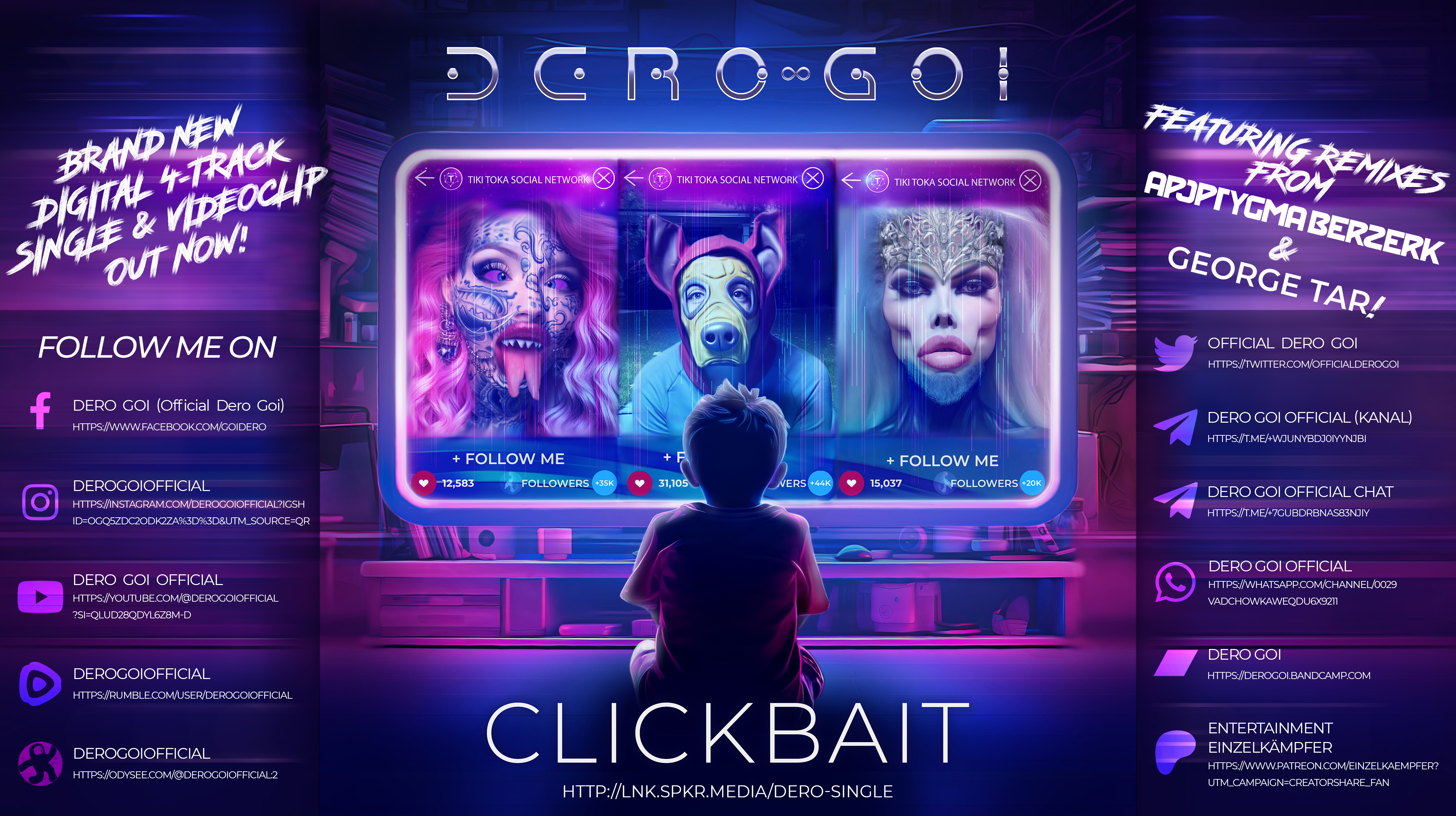 Ending the festival was the secretive Swedish band Wulfband. They have never played live before and have only released a few songs but they've caused quite the stir amongst the ranks of EBM fans, at least in Sweden. The duo's true identities have not been revealed. I know who they are. But I am under penalty of death (or forced listening to Slovenian neo-folk rock), if I chose not to say anything. So, they wear masks on all promo photos and on stage too. They played in front of a packed venue and things got quite out of hand and rough. Being in the front row I did enjoy it, nobody messes with 100+ kilograms of Gothenburg might, …well they did and I have the bruises to prove it. If you haven't heard Wulfband I suggest you look them up online, or even better catch their next gig. It is fast, it is well produced and it is sung in German. Playing masked has its disadvantages though and the singer learnt it the hard way falling off the rear of the stage twice. The second time quite bad and label boss Torny Gottberg had to lend a helping hand, later stating that he will feel that bruised leg the next couple of days for sure… By the time the gig ended everyone was soaked in sweat. It felt nice and like the mayhem gigs indoors at the Arvika festival in the early 90:s. A great way to end a long one-day festival, which was a bit of a rollercoaster, ranging from poor to great. I look forward to next year already.