In contrast to the 2014 album, "Tales of Us", the new Goldfrapp full length "Silver Eye" brings us back to the electronic pulse we've been presented before. This time a bit rawer but still 100 % Goldfrapp. Peter Marchione from Release had a few words with Will Gregory.

Different genres and kraut influences
Quite some time has passed since Goldfrapp was formed back in 1999, by Will and Alison Goldfrapp. Both were quite involved in the trip hop and Bristol scene (e.g. Alison put vocals on "Pumpkin" on Tricky's debut album "Maxinquaye" in 1995 and Will worked on several Portishead releases).
Through the years, the band has exposed a rare ability to both switch in-between and mix different genres; like e.g. cinematic ambiences, club, disco, folk and pop. Brand new "Silver Eye" brings back the electro sound of the group, vaguely hinting back to "Black Cherry" and "Supernature". Still, the overall tone is a bit different this time. Will explains that "Silver Eye" indeed brings them back to more electronic landscapes but is still somewhat darker, compared to earlier, more electronic sounding albums.
– Every album tends to be a reaction towards the previous one. We're quite selfish in a way that we're just entertaining ourselves. If we're bored doing one thing maybe we'd just change to something else. We did a lot of acoustic, 3D soundscapes and more ambient music on "Tales of Us" and felt we'd said enough on that subject. This time we wanted to get back to the synths and see what more we could bring out of that palette. We also wanted it to be a bit darker and a bit less glossy and surface shiny; rawer and hypnotic but also bringing out a more animalistic character out of the instruments.
Speaking of inspiration in general, do you and Alison have any common grounds there or do you combine two completely different worlds?
– I believe everything feeds in somehow at some level. We both also listen to other's music and love a lot of the kraut rock from the 70:s that inspired lots of people along the way and still is. While we still haven't gone there I think we're influenced by the way that synths got used back then. In that kind of music – kind of hypnotic and rolling, not rocky or kind of disco – there was a certain spirit. We tried to bash along like that.
You've reinvented yourselves several times along the way, releasing tracks of many different genres; from folk to electro. Still, always with a certain trademark Goldfrapp, human feel – even when a tune is 100 per cent electronic. What is the secret recipe behind the Goldfrapp ability always sounding so human, even when electronic?
– Well, first of all; we're not programmers but rather performers and musicians, used to playing instruments the old-school way and singing. Out of a ten-minute jam we might get that two-bar loop or even less and think "well, let's loop that and see what that's like".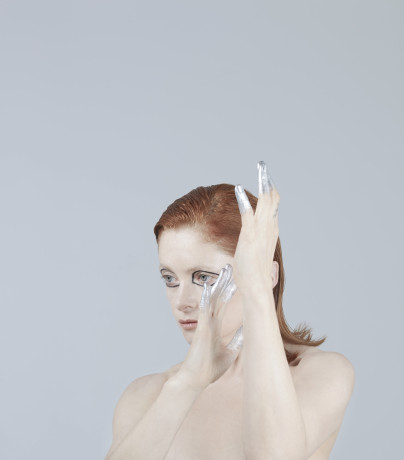 New partners in crime
On "Silver Eye", for the first time, they sought new collaborators as the songs were taking shape. They spent ten days in Dallas with Grammy-winning producer John Congleton. In London, they teamed up with electronic composer Bobby Krlic, aka The Haxan Cloak and Brian Eno collaborator Leo Abrahams added abstract guitar textures to "Faux Suede Drifter" and "Beast That Never Was". Further input came from mix engineer David Wrench and Mute Records founder Daniel Miller, who combed through every version of the song "Everything Is Never Enough" to find the perfect take.
– We went to Dallas to work with John Cognleton, hoping that he'd maybe rough things up and remove any smooth edges – and he definitely did! He was a very nice input at the end of this album project. Like a third ear, in many ways.
Will tends to collect hardware synths and different effect boxes and explains that Alison also is very geeky when it comes to buying new equipment and exploring new sounds.
– Since I do not only collect but also use everything, I feel vindicated in my over the top collection of hardware. And whenever I feel I want to buy some synth and ask Alison what she thinks, she'd just go "Yes, yes, yes – get that, get that!". We are both very passionate about our instruments and boxes, Will says with a smile.
Even though Alison Goldfrapp is a very talented singer, the band often treats her vocals with quite some avant garde effects and tweaks, still never running the risk of destroying the essence of her voice.
– We're happy to run her voice through different filters, preamps and pedals. Alison is very gung-ho and brave about what happens and excited to see what comes out on the other end of the effect chain.
 Well, thank God you're into electronica and not e.g. R&B: A standard R&B diva would probably never allow this!
– If one thing is true: Alison is no standard R&B diva! Will laughs after my last question. She often brings records and says "I love the vocal sound here, what is it?". Then together we will try to achieve something similar.
Album review here