Priest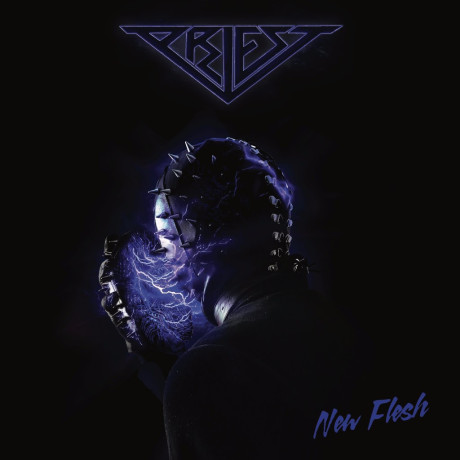 New Flesh
Format:
Album
Label:
Lövely
Release date:
November 17, 2017
By:
Mikael Kahrle

Ghost wants to be like a good metal band from the late 70:s you missed out on. And just like Papa Emeritus and his Nameless Ghouls, Priest is like a good "synth" band from late 80:s/early 90:s you wished you caught while they were still active. That explains the somewhat dated sound; it's intentionally primitive, minimal and old school but with modern day oomph.
Cooler and harder songs like the complex "The Cross" and EBM-like "Vaudeville" grow and grow on me, and get stuck in my head – that's the mark of good songwriting. Priest have that special something and their catchy songs really stand out. In a world of lukewarm and somewhat tired electropop, these Manifest Awards winners have the confidence to go all in no matter what. That's another similarity with Ghost. And ex-Ghoul Alpha (Simon Söderberg) has done an excellent job as producer and co-writer here. Before he sued Papa Emeritus (Tobias Forge), he was the second most important member in Ghost as lead guitarist and co-producer/co-arranger. He has worked in the most expensive studios and performed hundreds of gigs in front of audiences of up to 100 000 people. The step from metal elite to a small synthpop band is huge!
Now Simon has thrown off his mask but the Priest members have just put theirs on. Maybe they are ugly as hell… (no, just kidding) or they just want to separate their ordinary lives from the music. And just like with Ghost, The Knife, Wulfband and many more, it adds to the appeal. I know who's in Priest but respect that they have chosen anonymity.
They have a really skilled main vocalist. He can handle everything from tough starter "The Pit" (with processed vocals) to boldly light ending track "Reloader" (but he's not the only one in the band who can sing). The keyboards are also impressive, quite often building on classical composers like Bach. The melodies fits the whole mysterious and bombastic dramapop idea well and the beats will make black crowds moving. The band members have different backgrounds with limited connection to the synth community, which gives them a healthy outside perspective. But just like Simon they have heard their fair share of new romantic, synthpop and maybe goth. One of the members have been in a Swedish synthpop band and Ghost.
It has been entertaining to read internet discussions amongst Ghost fans, as most of them don't even know about this old genre and make the funniest comparisons from chart pop to EDM stars. And in our circles, it's the same story as always – complaints about the lack of new innovations. But in this particular case it's interesting. Because in metal and hard rock it's perfectly normal to sound like the heroes of old as long as you do a really good job, entertain and add your identity to the formula. And that's exactly what Priest is about. "New Flesh" was the best synth album of 2017, and from a secret newcomer no less.