Röyksopp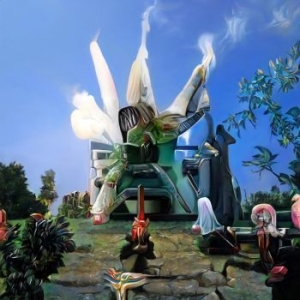 Profound Mysteries
Format:
Album
Label:
Dog Triumph
Release date:
May 3, 2022
By:
Mike Whyte

Röyksopp return, but in a very different way. Slightly backtracking on a promise to no longer make traditional albums, the duo of Svein Berge and Torbjörn Brundtland have come back with… an album. Actually more of a concept, as it is not just a collection of tracks, but multi-media, visuals and website too. Though the visuals make up a part of the experience of the album, actually the tracks can be enjoyed "as is" – so I will review them on the aural aspect only.
"(Nothing but) Ashes" is unsettling, it has to be said. Starting with what sounds like a kids out-of-tune piano, scuttery sounds overlap and seep through, creating a disturbing sonic experience. "The Ladder" breezes into view next, replacing the unsettling with a more laid back psychadelic sound. These are followed by a slew of vocal-led tracks, with some very famous vocalists thrown in there.
"Impossible" returns to a more traditional vocal-led Röyksopp sound. Backed by a churning electro rhythm and persistent drumbeat, none other than Alison Goldfrapp fronts this strong track. "This Time, This Place" also has to be a highlight. A proper grooving techno track, which Röyksopp seemed to be able to churn out almost instinctively many years ago, plays out with gloriously luscious vocals by Beki Mari.
"How the Flowers Grow" is slow, and slightly dreary – it feels like some of the soundscame from a horror/ sci-fi sound effect pack. "If You Want Me" fairs best of the lot though. The atmosphere is set up beautifully, the vocals delightful (this time Susanne Sundfør on singing duties), this track sounds like it could be made for some futuristic musical. Similarly delightful we have the vocals of Astrid S, who sings across the uptempo number "Breathe". The tune is a belter, and I wouldn't be surprised to see it create the much-missed "hands in the air" moment once Röyksopp start performing it at festivals worldwide.
"There, Beyond the Trees" is an interesting little piece, sounding like a person singing through some steam-powered breathing contraption. The muted background vocals are powered by a mid tempo glitchy drum beat that sounds like it lets off "steam" every cymbal hit. It's OK but the drunk-trumpet synth sound sometimes ruins the atmosphere. The final two tracks are very atmospheric – the former "The Mourning Sun" is very atmospheric and dreamy, the closer "Press «R»" unsettling, starting with some dark ambience before a robotic voice simply repeats "Press R to continue…"
It's great to have Röyksopp back, and when they pull out the stops, some of the tracks are joyous and could easily sit amongst their finest work (especially "Impossible"). It's also great that they are moving into new areas with their multi-media pursuits, though I'm still tempted to say the visualisers/ videos on show are interesting amusements rather than essential to the tracks, at least at this point in time.