Simi Nah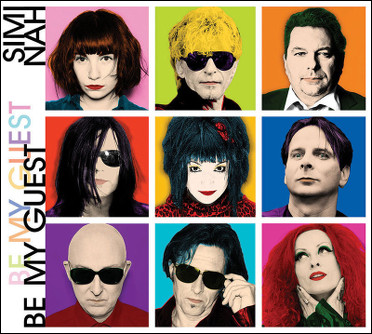 Be My Guest
Format:
Album
Label:
Why2k Music
Release date:
June 6, 2014
By:
Tobias Eliasson

Simi Nah released her first album "Cherchez la Femme" in 2004, followed by "5" in 2012. Both of these were filled with electro tunes, mostly in French. The project has now evolved into a band with Simi Nah herself together with KGB (Kenny Germain Blomme) and Safyée (daughter of Snowy Red).
"Be My Guest" is cover album where they have invited 6 different singers to cover in total 8 different tracks from late 70:s/early 80:s; but now remade into modern electro versions. I was sceptical at first, since cover albums tend to be quite boring to be honest, but with guests like Dirk Ivens (The Klinik) and Dirk Da Davo (The Neon Judgement), I wanted to check it out. And I was about to be surprised – because this is really good! They have taken a number of different tracks from such artists like Amanda Lear, Dead or Alive, Cabaret Voltaire and Suicide; and managed to get a consistent sound throughout the album, bringing everything into a sort of Belgian new beat/EBM state.
We start off with "Cheree" with Wim Punk from The Wolf Banes and while nothing can beat the original (one of the best songs ever) it's very nicely done and I start to wonder what the next track will be like. It's "Eisbär" with Danny Mommens from Vive la Fête and while this is a great track to begin with, this version is absolutely great! Great beat, great vocals, great combination of modern and new sounds. Very impressive (and did I say great?).
And the album continues with other nice collaborations like "Your Spin Me Round" with Dirk Ivens and "Nag Nag Nag" with Dirk Da Davo. We also get a very nice version of "Euroshima (Wardance)" with vocals from Safyée.
This is an interesting take on covers and for once I feel that they manage to combine the feeling of the old versions, but remake them for the present in a version that don't just sound like a copy.