Xenturion Prime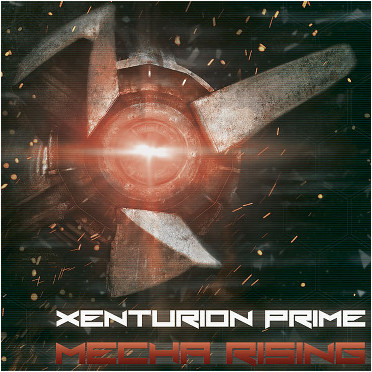 Mecha Rising
Format:
Album
Label:
Progress Productions
Release date:
June 18, 2014
By:
Johan Carlsson

After disbanding Code 64 a while ago when Christian Espeland left the band, the remaining 2 members Hasse Mattsson and Bjørn Marius Borg decided to continue under a different name. The Swedish-Norwegian duo came back as Xenturion Prime after a couple of weeks deliberation, with a promise to continue the hyper electronic powersynth path of their previous band. A harder, more aggressive EBM side was shown on the first single "Rise" where even a bit of growling was on display. I bet it shocked a couple of fans, but fear not as most of the album offers the pure melodic ultrapop we've come to expect from them (some growling may still occur though). Even if it's under a new banner.
So, you'll recognize the music, but they are still moving forward. There's an updated sound palette with more techno and trance influences – and vocally Bjørn stretches himself further than before. Long epic uptempo robotic dance tracks with sci-fi themes are the order of the day, with sprinkles of cinematic orchestration on top. It works wonders, but I have to say that I miss the immediate catchiness of some of their older compositions. Actually I was a bit disappointed when I first heard the album, but it has grown a lot on me and there's some real gems to be found, and I discover more details each time I listen.
Actually, I'm quite fond of the slow piece called "Realms", starting off with soft piano and then it builds slowly into a beautiful electro ballad. It really shows the skills and versatility of Hasse and Bjørn. A shoutout must also go to "Vermillion" and "Skyline" where the latter is a truly epic 7 minute video game powersynth trance EBM bonanza.
By making "Mecha Rising" both a splendid return as well as a debut, Xenturion Prime manages to build on the success of Code 64 in a clever way, I think. There's "more" of everything, and it keeps growing on me which is a good thing.