White Birches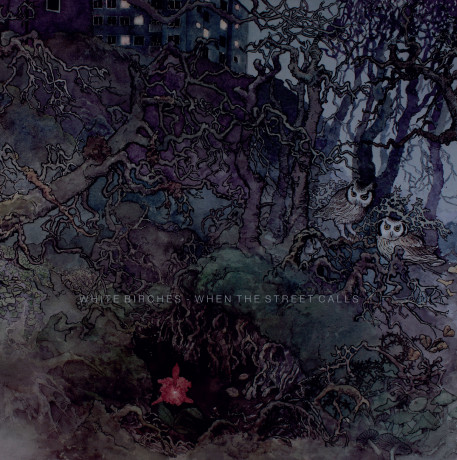 When the Street Calls
Format:
Album
Label:
Progress Productions
Release date:
February 9, 2018
By:
Fredrik Schlatta Wik

"When the Street Calls" is the title of the second full-length album from Swedish darkwave duo White Birches. It has beautiful artwork and is comprised of eight tracks and the first track "Trouble" sets the tone for the entire album. It is a bleak uneasy world they describe, of growing hatred, racism, violence, irrationalism, suspicion and paranoia. The only choice for survival is to rise up and face this demonic movement taking over the world.
Compared to White Birches' debut album "Dark Waters", I find "When the Street Calls" grittier, especially in the drum programming, or mixing rather. There is a dark sombre tone throughout the whole thing and the whole production feels much more professional and the compositions and overdubs are really well executed. Singer Jenny Gabrielsson has been compared to Kate Bush and I can agree to some extent, but for some reason the vocal production made me think of an unholy marriage of Alison Goldfrapp and Sally Dige. The same goes for some of the arrangements. A feeling I can't really explain in rational terms.
Several of the tracks have quite a monotonous drive and there are few extravagant sonic excursions. Instead the melodies and soundscapes are presented directly, this is also fitting to the theme of the underground or working class movement. Straight to the point, rise up now! It is a clever album. So why isn't this a ten out of ten for me? I think you really have to be in the right mood for this album. Some days I couldn't stop listening and other days I couldn't get past the first track. That rarely happens to me.
Just like their debut, the album ends with the album title track. "When the Street Calls" is a fitting end, in a dystopian future we must resist. I prefer this, the difficult second album, over the debut, which is quite a feat in itself.  My favorite tracks on the album are "Howl", with its fantastic solo at the end, and "When the Street Calls", where the haunting choir like pads, or theremin whining perhaps, are in perfect harmony with the melody and vocals. And I would very much like to hear a duet version of "Under My Spell" with Nick Cave, please make it happen.