Vitalic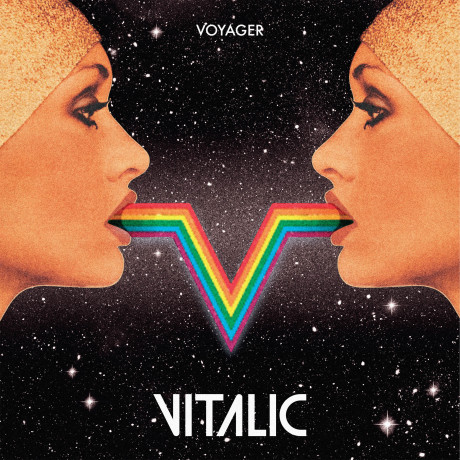 Voyager
Format:
Album
Label:
Citizen Records
Release date:
January 20, 2017
By:
Mike Whyte

Vitalic may sound like a type of over the counter medicine, or a vitamin boost supplement, but it is actually the French electronic dance artist Pascal Arbez. He is been in the public's eyes and ears since the electro sounds of his 2005 debut, "OK Cowboy". "Voyager" marks his fourth album since that time, and will coincide with a tour which will take in Europe and further. So what can you expect out there on the dancefloor?
I'm going to start with "Waiting for the Stars", which was apparently the last song recorded for the album, together with David Shaw and the Beat. It has a lovely playfulness to it, with a disco-like rhythm section supporting electro-wobbles and tinny keyboard elements reminiscent of those plastic Yamaha keyboards with the bright buttons popular in the 1980:s. The track is fun and poppy, and for the elements involved, surprisingly sophisticated on the ears. It is not the only collaboration on offer here though, "Use It or Lose It" features Mark Kerr of the band Maestro, but for me the best of the bunch has to be the slow-moving "Hans Is Driving", which features Miss Kitten and her famous spoken delivery.
I can't say I love all of the tracks here if I'm honest. "Lightspeed" for example leaves me a little cold, as it feels too loose in parts. Similarly, "Eternity" is a track that I could like, but for the repetitive piano stabs. When the track picks up gear towards the centre of the track though, different story.
"Nozomi" starts off the end section of the album, and it is all killer. Great tracks which really make the most of the elements and playfulness of sound – perfect for the dancefloor. "Sweet Cigarette" is meant to be a tribute to "Warm Leatherette" by The Normal, and it pulls off the main idea well, a difficult thing to do for such a classic track. The album ends with an OK cover of Supertramp's "Don't Leave Me Now".
Most of all, I love, love, love the craziness of "Levitation". If I'm honest it sounds to me like Kraftwerk trying to reprogramme R2D2 while travelling round a rollercoaster. If that sounds strange, you really need to listen to the track for it to all make wonderful sense. I won't be surprised if already this ends up on my end of year Best of list.
The album is playful, delightfully bizarre, and takes a number of interesting points for its inspiration –  a breath of fresh air for those who are getting a little bit bored of the earnestness and seriousness often associated with the electronic music genre.