Vanguard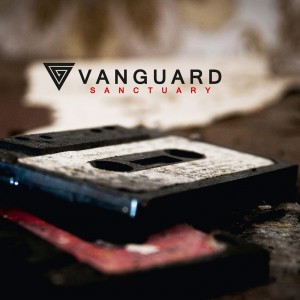 Sanctuary
Format:
Album
Label:
Conzoon
Release date:
June 15, 2012
By:
Fredrik Schlatta Wik

Gothenburg based duo Vanguard (Jonas Olofsson and Patrik Hansson) formed back in 2008. Now their debut album "Sanctuary" is released by German label Conzoom.  The album consists of twelve songs and the CD-version is graced by two additional tracks. I did not know what to expect before listening to the album for the very first time. But it proved to be a rollercoaster, making me alight with a smile on my face and wanting more.
Opener "Shine" is uptempo and melodic. Despite slight doubts I had initially regarding the somewhat whispered vocals, the track grows and evolves into something with hit feeling I'll include in my forthcoming DJ sets. The following trio of songs, "Goodbye", "Save Me From Myself" and "Now That We're Here" made me think "typical Swedish synthpop album". The lyrics bothered me first and foremost: rhyming case/place/face, call/wall, joy/toy and more one-syllable words; it is almost a pastiche. Don't get me wrong, the power of some one-syllable words should not be underestimated, they can describe strong feelings quite well – at this point I had a few lined up… The scene is not known for lyrical prowess so I was willing to let it slide, mainly due to fact that the music and vocals are in fact intriguingly intricate. In my mind they are actually playful despite being dark synthpop with elements borderlining futurepop.
During uptempo growing track five "My World" they start to win me back and following "Make the Cut Clean", "In Your Arms", "What Did You Achieve" put me in a good club going mode. The slower "Obscene" is beautiful and again the melodies and chord progression is well constructed, it might be my favorite track along with "Shine" and "My World". The end of the album with "Trigger", "Rage" and "A Certain End" is magnificent. Both CD bonus tracks, "Shame" and "Better Man", are slower, beautiful both in harmony and lyrics and I would have easily substituted some of the early album songs with these. I think that the darkness and emotion of the slower songs and the latter uptempo songs would constitute a near perfect debut.
It is always tempting to compare artists and why not? I would describe Vanguard as a mixture of Mesh, De/Vision, Toy, Psyche and the Mobile Homes with a pinch of futurepop and some tiny Vince Clarke-ish melodies hidden away in the mix. It is an impressive and promising debut. I want to hear more. I want them to prove themselves fully on the difficult second album.