Thundercat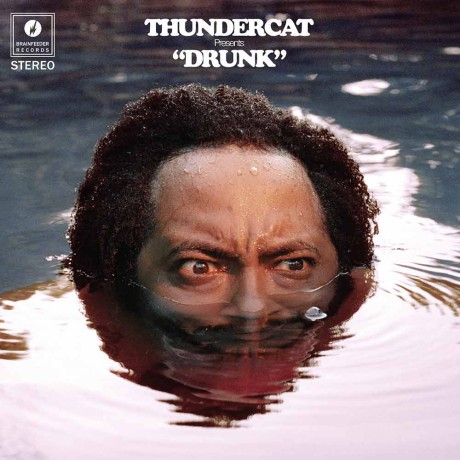 Drunk
Format:
Album
Label:
Brainfeeder
Release date:
February 24, 2017
By:
Mike Whyte

I am sure you know who Squarepusher is. Talented electronic music producer and amazing bass player, also known for his work in the genre of drill'n'bass. Oh yeah, and the fact that he is on the same label as Aphex Twin…
Well, around 20 years later, it seems across the water in America, the same links can be made. We have an another electronic music icon (this time Flying Lotus), another important record label (Brainfeeder), and another producer and bass player, the multi-talented Thundercat. As well as playing with Flying Lotus, he has also worked with thrash band Suicidal Tendencies, and even influentially featured on Kendrick Lamar's "To Pimp a Butterfly".
This, his third album, can best be described as electronic soul, it has elements of electronic (and if you listen to "Jethro" an almost Squarepusher-like segue into drill'n'bass drums), but there is jazz and funk in places too – and a lot of collaborations. Appearing in various guises across the album are Kendrick Lamar, Pharell, Wiz Khalifa, and Flying Lotus, as well as legends like Kenny Loggins and Michael McDonald.
"Captain Stupido" is great, and funny. It sounds like a song sung based around the inner workings of your mind "Comb your beard, brush your teeth…" This sense of fun continues through the album – all 23 tracks of it. This might sound like the album is some kind of three-hour epic, along the lines of Pink Floyd's "The Wall", or The Who's "Tommy", but in reality a lot of the tracks here are only just over a minute in length. This is good for some of the tracks, as they don't outstay their welcome, but a shame when you have something nice that is gone all too soon.
Case in point "Uh Uh". A fantastic bass led track that chugs along in an electro-jazz-funk fusion, with sweetly sung lyrics and then… stops. I could have listened to this for hours (or at least twice the length anyway). "A Fan's Mail (Tron Song Suite II)" is similarly brilliant, and even has cat meowing in it, but at 2.39, is almost over before it started. "Tokyo" is one of my favourites here,  and though still short, is a retro-sc-fi vibe in a love letter to the city.
It seems the album hinges on three great tracks – both of which are fully-formed and coincidentally are all over three minutes in length (in fact there are only a handful of them across the whole set). There is the awesome "Show You the Way" which features both Michael McDonald and Kenny Loggins, which has you imagining a velvet-clad room and the two singers on stools dueting over Thundercats' mesmorising bass; "Walk on By" which is a smooth soul song before Kendrick Lamar cuts in half-way through. Finally there is "Drink Dat" which has Wiz Khalifa at the forefront, a whoozy track to say the least!
A great album, but, and I feel strange for saying this as I normally wish for the opposite, I wish it could have been longer – the tracks allowed to build and extend, morph and shift. There are so many ideas here, enough for maybe three albums, it would have been nice to allow some of them to be able to mature a little…
To conclude, the album is like a cocktail, but one made up of shots that you have to down rather than sitting and cradling in a comfy chair. I like the comfy chair sometimes. It might not be for all Release readers out there, but I'm sure some of you will get it, and some may even feel the same as me.