The Prodigy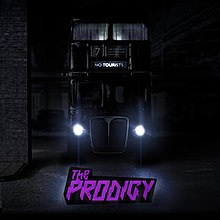 No Tourists
Format:
Album
Label:
Take Me to the Hospital/ BMG
Release date:
November 2, 2018
By:
Mike Whyte

Those electro-punk mischief makers are back. The trio that go by the name of The Prodigy has returned with a new album, on their own label, and looking to get the party started once again.
To say they're back with a bang would be an understatement. The album literally explodes at you from the start – and in true punk style, within the first five minutes you have nearly completed the first two tracks. "Need Some1″ kicks off proceedings with rave blasts all over the place, followed by "Light up the Sky", which sonically punches you into submission.
Liam Howlett, the musical genius behind the band, has now put together seven studio albums, and has managed to keep the energy levels at hi-octane through all of them. The sound set may remain largely the blueprint set up way back from "The Fat of the Land", but the hybrid of electronic music and punk energy has served them well, especially live, where they remain one of the best bands out there to watch. So why the hell not? If it ain't broke… as they say.
It's a shame to say that the title track is probably the weakest track here, as the rest of the album spits venom like the apocalypse in three minute bites. Listening to "Fight Fire with Fire" is like being in the middle of an electrical storm, with guest rapper Ho99o9 shouting straight into your face – it's raw!  If you feel like a little deja vu occurs during your listen to this album, I'm with you. The high pitched vocals often favoured by Howlett reappear on "Timebomb Zone", while the intro to "Champions of London" sounds like an offcut riff from "Their Law". These songs are designed to be played live and loud evidently, and I guess that's the whole point.
The track that got me all excited though has to be "Boom Boom Tap" – firstly, it's genuinely different to stuff I've heard before. Second, it pounds pretty damn hard, with an almost jungle like rhythm on the chorus. Third, the lyrics hint of I can't even be bothered to write them so listen to this – a very punk attitude to what is my favourite track here.
To imagine that The Prodigy would sound any different is missing the point; they have carved their own particular niche, and every album just further helps to define that. My only gripe is I miss at least one of the longer, more in depth tracks that Liam used to do so well. The Prodigy are just that, the Prodigy, and we should all be a little thankful for it, as they blasted down the doors for a large and diverse range of acts to push through after – respect.