Teho Teardo & Blixa Bargeld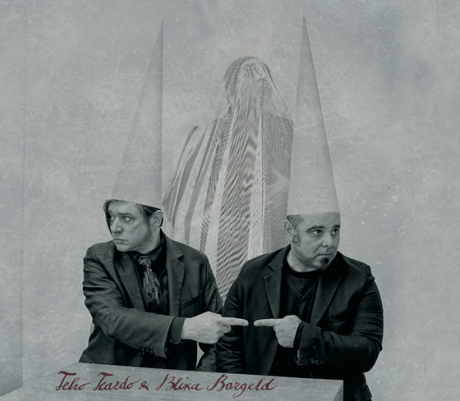 Still Smiling
Format:
Album
Label:
Spècula
Release date:
July 1, 2013
By:
Peter Marchione

I assume that there are hardly any Release Magazine readers that are not familiar with Blixa Bargeld but many of you may not have been introduced to Teho Teardo. Apart from being a composer, Teardo was also a member of Meathead – an alt rock band that released a couple of albums during the nineties and some of the tracks were produced by Pankow member Paolo Favati. A later project involving Teardo, Operator, also toured with Placebo in 2003.
The first Terado and Bargeld musical collaboration was for the theatre piece "Inguria" and right after they created the track "A Quiet Life" for a soundtrack. This track was the very starting starting point of a 2 year project that eventually led to the release of "Still Smiling".
Sound-wise, this reminds me of a blend of what I imagine Einstürzende Neubauten to have sounded like in between the "Tabula Rasa" and the "Ende Neu" albums. It is overall mellow sounding and shares common grounds with classical Bad Seeds or, maybe more correctly, Tindersticks. The actual base of the tunes is traditional song writing with that certain Bargeld twist that brings in unorthodox sound objects, both electronic and acoustic. Herr Bargeld and signor Teardo have also hired different session musicians like e.g. The Balanescu Quartet and cellist Martina Bertoni. These people bring a definite seriousity and sonic weight to the album as a whole.
As you would expect with these 2 gentlemen, nothing has been left to chance; the songs are very elaborated and with lots of trademark Bargeld irony woven into the lyrics along with certain political hints, were also Silvio Berlusconi gets some verbal kicks in the ass. The vocals are in 3 different languages; German, Italian and English and on some tracks Blixa Bargeld actually jumps between them. Still, the linguistic mishmash never feels odd. The aura of the release is very cross-cultural and all the at times strange textures and language jumps feel correct in the context. The opening track "Mi Scusi" is a charming, humorous confession where the singer apologises for his deficient italian. Maybe this self ironic opening is the reason why I enjoy both this particular track but also the rest of the album so much. The way the authors distance themselves from their creation with this initial disclaimer leads me to also observe the product with a certain amount of healthy ambivalence. While "Still Smiling" really isn't covering anything new it still feels like a robust album that will stand the test of time. I've been living with "Still Smiling" since this summer and, so far, I cannot seem to get tired of it.