St. Lucia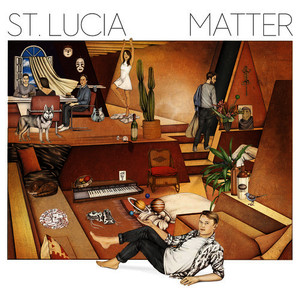 Matter
Format:
Album
Label:
Columbia
Release date:
January 29, 2016
By:
Johan Carlsson

This project is bringing the fun back to pop. St. Lucia the stage name for South African-born Jean-Philip Groblet, currently residing in Brooklyn, NYC. This is his second album, and it's filled to the brim with bouncy, happy and borderline cheesy synthpop with a very pronounced 80:s sound. After a somewhat nondescript first song we soon arrive at "Home" which instantly cements what kind of album this is. One of my favourite tracks of 2016 so far, I'd wager it's impossible for anyone to sit still when it's playing, and the infectious chorus is an instant earbug.
The album continues on the same path, with catchy electronic songs bringing forth a shit load of energy. "Dancing on Glass" is the first single, and "Physical", "Rescue", "The Winds of Change" or "Help Me Run Away" could very well be next. That's a pretty good haul for any artist! It's a very confident album, and Jean-Philip seem very sure about what he wants.
There are some downers on here, such as "Love Somebody" which is the only evidence of his self confessed love of Boyz II Men… Enough said. Don't let that deter you though, there are enough of fantastic songs here to warrant a look.