Seven Trees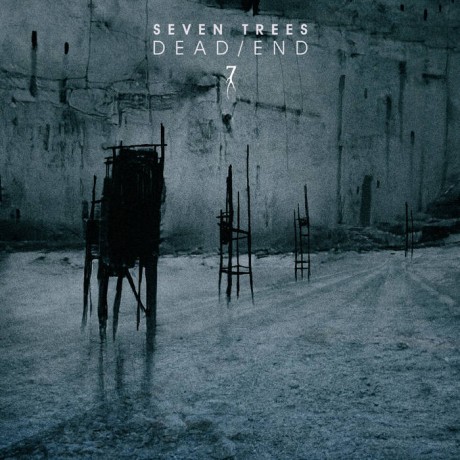 Dead/End
Format:
Album
Label:
Progress Productions
Release date:
February 12, 2021
By:
Peter Marchione

Seven Trees bring forward an aesthetic agenda that throws us back to the dark electro scene of the nineties and it's not that strange. This Swedish band was formed back in 1994, and after a couple of well-received cassette releases the debut album "Embracing the Unknown" was released on the Zoth Ommog label in 1997. Fans would then have to wait for 24 years (!) before a proper sequel album would be released: "Dead/End". Of course, there have been some spin off-releases, EP:s, and remixes while waiting (e.g. "Expanding the Unknown" from 2013 and "Trauma Toxicity" from 2017).
To be honest, it would be unfair to say that the sound is dated, quite the opposite. This duo master a kind of industrial evergreen sound, but they also put their own touches to it. It's not like being presented a copy of any of the classics but more like having a new release in the same vein – updated for the current decade.
The thing is that, like ever before, Johan Kronberg and Henrik Karlsson certainly prove that commitment and passion exceed hypes and trends. While "Dead/End" is full of references to the Vancouver lads we all love, this duo adds their own seasoning to the stew, like e.g. some rather unorthodox harmonic and sonic twists.
The theme is dystopic but in a more ambient environment than any cyberpunk retro-trip. The production is top-notch and even though the vocals often are distorted and twisted I never have a hard time hearing the lyrics. The tone of the voice is not only referring to the above-mentioned sources of inspiration but at times also to darker derivates of Scandinavian metal.  There is a sense of immediate threat throughout the album, and the contrast between "evil" lead vocals, backed up with more "human" backing ones brings forward the duality of the human mentality. The dark lyrics are sometimes in elegant contrast to the musical harmonies; Seven Trees are not afraid to (almost) touch pop references, which in this context empathizes the horror scenario even more. A bit like lullabies or toy sounds in film productions.
To me, this album is aimed to be a listening experience rather than a bouncy club thing. While there are beat-driven tracks Kronberg's and Karlsson's attention to details makes this release a perfect fit for headphone listening. Tracks like "Pure Sedation", "Game over" or "Dystopic Illusions" preserve the legacy of the genre and push it forward. I see no reason why "Dead/End" should not be mentioned alongside "Tactical Neural Implant" and "Too Dark Park"