Rome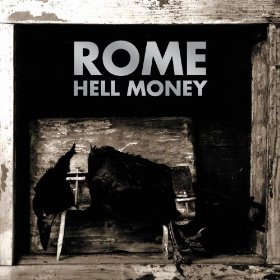 Hell Money
Format:
Album
Label:
Trisol
Release date:
October 26, 2012
By:
Peter Marchione

The Rome project was formed by the then sole member Jérôme Reuter back in 2005 and the first bunch of martial neofolk releases were all on the legendary Swedish Cold Mead Industry label. In 2009 Rome stepped over to Dieburg (Germany) based Trisol that has also reissued all the former CMI releases.
My first encounter with Rome was "Flowers from Exile". A cinematic album from 2009 that hit me at the same time as I totally overdosed on other music with similar singing style, e.g. The National. I was then very content to find bands releasing music with some kind of anti pop concept and no obvious main ambition to be hyped. Rome's music was actually was pop in some ways but still alternative enough with its neofolk and Nick Cave undertones.
Between this 2009 album and this brand new one – "Hell Money", the duo has released a couple of albums and EP:s and has certainly dared to blend references and impressions from different origins. At first I tried to dismiss the style on "Hell Money" as some kind of over copied gothic nonsense but there is far more here than meets the eye. The underlying substance and the actual blend of cultural references raises the credibility significantly.
On "Hell Money" the songs are, just like on other Rome releases, generally suggestive, indirect and monotonous. In some passages I feel the aura of Swans at Giras' more laid back moments. Many songs on "Hell Money" don't punch me right in the face at first listen. There are tunes that will need more time in order to grow upon you. And, time has told me, that the albums that need some time generally are the ones that work in the long run. With that in mind, if you ask me in a couple of months I'll probably give this album a slightly higher grade. For now I'm not overwhelmed but yet somewhat impressed.
And be warned if you use Spotify; there is another artist using the name Rome… and you will definitely notice when you pick the wrong one.