Purity Ring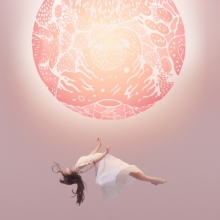 Another Eternity
Format:
Album
Label:
4AD
Release date:
March 2, 2015
By:
Johan Carlsson

Purity Ring call their genre "future pop", which I find kind of amusing since they as far as I can tell have no connection whatsoever to the synthpop subgenre dominated by VNV Nation. Except that they make synthpop influenced by other genres, but in this case it's more about witch house and dreamy indietronica. Megan James has a light, effortless, brittle voice that fits the twisted, poetic lyrics soaring on top of Corin Roddick's ultra modern, clean, fluffy production.
Edmonton based Purity Ring is one of the new breed of female fronted electronic pop bands of the (sort of) same vein as Chvrches and Lights that's reached a whole new generation of fans and whole other levels of recognition outside of "our" genre, which I think is great and gives a lot of hope for the future of electronic pop. Especially if it's this good.
I first noticed Purity Ring when they were featured on the excellent Jon Hopkins single "Breathe This Air", and checked them out afterwards. Compared to the new album "Another Eternity", the debut "Shrines" is a bit darker and "witch housier", also less song focused and more introvert. It takes a while to get to know it, but opens up if you make the effort. The new album in contrast is rather immediate and a lot more to my liking, in fact. These are songs I can take with me after I stop listening to it, and it sounds a lot more cohesive and thought out. The music is inventive, curious and sometimes even surprising. More "mature" as we reviewers say.
It will be interesting to see what the fans make of "Another Eternity" since Purity Ring are moving in a poppier direction, but I think they're all the better for it. If you're on the fence, check out the album opener "Heartsigh" which sets the tone directly and is one of my favourites on this excellent album.