Perturbator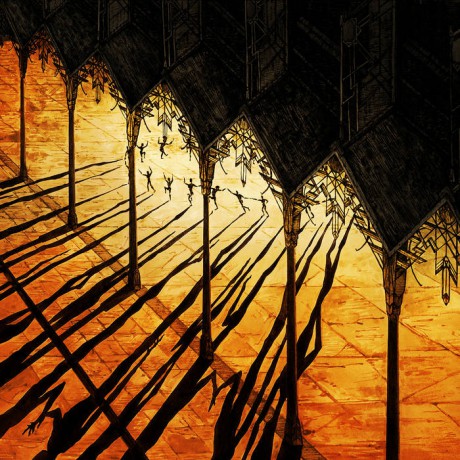 Lustful Sacrements
Format:
Album
Label:
Blood Music
Release date:
May 28, 2021
By:
Mike Whyte

Influenced by cyberpunk as much as the black metal he grew up playing guitar in, James Kent (aka Perturbator) makes music that would sit equally at home in the film "Blade Runner" as it does emanating from your speakers. Though synths are the predominant instrument here, with some classic vintage varieties such as the OB-X thrown into the equation, the early metal roots still lend a gothic rock atmosphere of menace across the tracks.
This marks Perturbator's 5th full-length release, and it is one that doesn't disappoint. Things really get going with the album title track, after a cinematic, though abrupt opener "Reaching Xanadu". The title track, a lively dark synthwave concoction with sporadic spoken vocals starts to pull you into the album proper. Unusually, it isn't one of the best track on here, as most title tracks tend to be, but it does its job with a minimum of fuss. "Secret Devotion" sits in a similar mid-tempo range, and is reminiscent of both early Human League and Bauhaus. There are plenty of screechy guitars and metallic ticks spread throughout the rhythm structure, creating quite an authentic retro palette. An even greater comparison can be made once "Dethroned under a Funeral Haze" is reached; the vocals reminding me of Depeche Mode's Dave Gahan in his prime.
"Excess" takes the tempo up and creates an alternate '80′s synth banger with a darker, punchier sound. Imagine as if "Masters of The Universe" had put Skeletor as the focus of the series rather than He-Man and you'll get the idea – great atmospherics and richly dark. The faster, more jittery tracks sit better with me – "Death of the Soul" being a highlight. "The Other Place" is also a stand-out track, but for a different reason. The focus here is on the musicianship and flow of the music – it's very organic in its ebbing and flowing; slowing right down and speeding way back up again once the drumkit pounds into earshot. "Messalina, Messalina" takes things a notch faster, and coupled with echoed screaming breaks, makes for one of the most aggressive tracks of the set – I love it. "God Says" closes things with a typical slow number, which is just little more than OK if I'm honest. There are some nice atmospherics, but it's stretched out way to far – running to a little over 8 minutes in length.
Though relatively young (Kent was born in 1993), his musically knowledge is very informed, no doubt helped through having parents that were also into synth music and played in bands, as well as being music journalists. Though it can't be said if this was a direct influence, the diet of electronic music that a young Kent must have absorbed has lent his music a maturity way beyond his years. He produces some of the most darkly atmospheric music I've heard in ages.