Oppenheimer MKII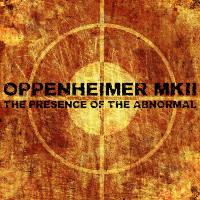 The Presence of the Abnormal
Format:
Album
Label:
Klanggalerie
Release date:
February 14, 2013
By:
Niklas Forsberg

Oppenheimer MKII is a new project from Brits Andy Oppenheimer and Mark Crumby. Andy is known from minimal synthpop duo Oppenheimer Analysis where he and partner Martin Lloyd (R.I.P.) served up gorgeous synthetic bliss. This new band thankfully builds on that sound.
"The Presence of the Abnormal" does delve delve even deeper into the minimal abyss and depends more on purity, monotony and drone-like structures. Analogue is king all throughout 12 buzzing and bleeping synth gems. It does not hurt that Oppenheimer's vocals fits the concept to perfection.
Peaks include "On Brighton Pier", a sad tune of childhoods gone by, and the preppy uptempo "I Wish I Never Said I Loved You", but the whole album is all pure magic for the increasing number of followers of minimals synth. The only drawback is the lack of a vinyl edition.