Noise Unit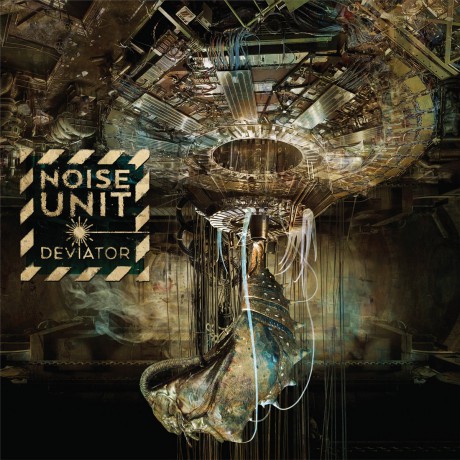 Deviator
Format:
Album
Label:
Artoffact
Release date:
September 27, 2021
By:
Johan Carlsson

Rhys Fulber's pandemic period has been an insanely busy one. He moved back to Vancouver from LA, and set up shop in his dad's old studio. Once there he could fiddle away as much as he wanted. So he cranked out a new Front Line Assembly album, this Noise Unit album (both with Bill Leeb, of course), a new upcoming Conjure One album, two (yes two) new solo albums as well as some new Cyberaktif tracks with Cevin Key and Bill. He and Bill also started working on new Delerium material. We're almost back to early nineties levels of productivity!
I have a feeling that much of this Noise Unit album was based on the same sessions as the aforementioned Front Line Assembly album "Mechanical Soul". Where Noise Unit began as a unique project with Bill Leeb and Marc Verhaeghen from The Klinik way back in 1989, it has since transformed many times. Sometimes it has been used as an outlet for unused FLA tracks, such as when the follow-up to "Tactical Neural Implant" turned into "Decoder", when FLA decided to embrace metal and hip hop influences and spawned "Millennium" instead. Sometimes Noise Unit has been more like a collective effort, for example on "Voyeur", where a bunch of talented people like Chris Peterson, Jeremy Inkel and Craig Huxtable created an array of awesome tracks.
This time it's harder to differentiate, but I'll say that the vibe is a bit more adventurous here – more techno and clubby. Straight EBM tracks like "Body Aktiv" mingles with atmospheric techno infused bleep fests like "Empath". "Tangerine EBM" as Rhys called it at the online pre-listening party. He also revealed that some of the songs was born as demos by the late Jeremy Inkel, tracks which were then further developed and manipulated.
Bill's voice is often treated – and mistreated – in different ways, and the Waldorf vocoder must have been running hot during the recordings. And I love a bit of vocoder, I really do. The vocal production work here is rather exquisite, I must say. The lyrics for "Deviator" however could be what an automatic Leeb lyric generator would sound like. with him shouting "Obliverate!", "Dissipate!" – you know the drill. But it wouldn't be a proper Leeb album without it! "Deviator" is first and foremost a great track – uptempo, danceable and complete with old school "Huah!" shouts!
We also need to talk about the Pig collab track "Atrocity Obsession", which doesn't sound like anything else on the record. It starts off with dirty guitars, before Raymond Watts himself comes in and kicks off this rocky, dusty tune. I don't mind the style but this one never really takes off and would have needed some more love from Leeb/Fulber. I've heard that some Pig fans like it though.
I must confess I prefer the new Noise Unit over the new Front Line Assembly album. The highs on "Deviator", like "Plight", "K7″, "Empath" and "Initiate", are better than the highs on "Mechanical Souls". To sum up, "Deviator" is both groovier and more atmospheric but also more playful.