Mesh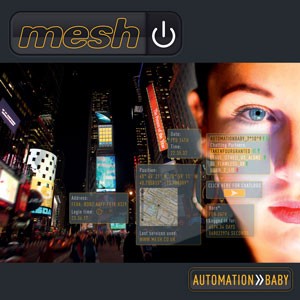 Automation Baby
Format:
Album
Label:
Dependent
Release date:
March 15, 2013
By:
Niklas Forsberg

It's much like re-acquainting oneself with a dear old friend every time Mesh puts out a new album. Few bands retain such a pleasant atmosphere. Mark Hockings and Richard Silverthorn stay firmly in comfort zone on "Automation Baby" and fans will have a hard time resisting the power of the vibrant songs on it.
Lead single "Born to Lie" tells the story as most of the 14-track album sports uptempo material. I have always loved their calmer moments and songs like "It Scares Me" and "To Be Alive", but the blockbuster arena choruses and club friendly beats of "Automation Baby" have me hooked from the moody intro of "Just Leave Us Alone" all the way to the brittle gem "You Could Not See This Coming".
As always Hockings' vocal performance shines, maybe more so than ever, and Mesh's dirty, virile electropop just keeps improving. In fact, current favourite "Never Meet Your Heroes" might be one of their all-time strongest tracks.
One might argue that not much have changed in the Mesh camp. But it needs to be said that no one in the scene does it better.