Marsh, Roberts, Benjamin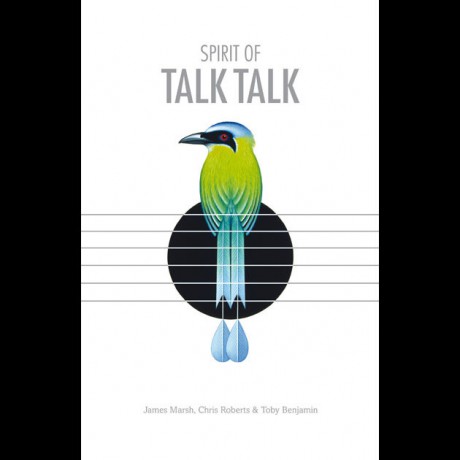 Spirit of Talk Talk
Format:
Book
Label:
Rocket 88 Books
Release date:
September 13, 2012
By:
Alex Veronac

Back in 1982 I was in my favourite record shoppe and noticed some new UK singles had arrived. One was Talk Talk's "Talk Talk" packaged with another band on the flip-side of a double A-side 4 track 7″ vinyl. Just by timing, Talk Talk was mis-marketed as an English new romantic act, similar to the Ministry experience with their first album for Arista. Talk Talk progressed into an intelligent organic melodic hash over their 10 year existence. It might be considered the music your older brother listened to at the time, in the vein of David Sylvian's solo work.
30 years after their first release, we have the first anthology dedicated to the career of Talk Talk as a productive musical force. This compendium has been achieved by artist James Marsh, music journalist  Chris Roberts, and book project coordinator Toby Benjamin. This book is built up from five distinct album recording periods, a section of peer musician accolades, a lengthy look at the artwork imagery by the original artist himself James Marsh, and ends conveniently with the last interview with Talk Talk's Mark Hollis. While there is a full discography, it would have been nice to see an illustrated family tree of all recording and live musicians involved.
What makes this band interesting for Release readers is their arrival during the new romantic movement, their desire to cast off from that scene immediately, and remain successful. This newly published book is the story of how, and why it happened. I can illustrate only briefly.
Talk Talk's wildlife themed videos detailed an anti-media approach, no lip syncs, and no sexy videos. The band used director Tim Pope of The Cure video fame, and the book includes some video shoot material. Talk Talk was a band project that shied away from press, and made up for that as their creative album covers became instantly recognized. In record stores, they were entirely unique and beautiful, eye catching and probably won over some wary fans into a purchase. Talk Talk's constantly developing sound brought on more music buyers, and there were less hit singles over time.
Seemingly an un-noticeable band, Talk Talk didn't have an image package or marketing machine behind them. Yet when their song vocals were heard in a bar, shopping mall, or TV show background, you know exactly who the band is. They could be described as a masquerade of improvised stardust pop, a murky plaintive melody with irregular drum patterns, easy recognizable guitar, the nasal vocal and cutting song lyrics. Their music remains influential to experimental alternative genres today. Talk Talk had a messy divorce from label EMI amid several lawsuits when the label released an album of dance remixes of the band's songs, causing a delay in their ability to release music.
As band memorabilia and early photos exist here, we also get into a full exposé of the original artwork conception for each release. The 12″ and album covers were so meticulously prepared with fantasy artworks and great typography. Others released band photos with cheesy logos on their music product of the mid-80s. This uncharacteristic band got better, and better only – maybe only Radiohead continues this exploration successfully in modern times. In 1986, the band ceased live performing as they found it difficult to recreate their newest recordings on stage. After recording their last album in 1991, the key trio parted ways. A few side projects evolved, a solo record, even an inclusion on an U.N.K.L.E. release, but the core band still remains separated.
Book quote from Al Farquhar, former International Product Manager at Polydor Records: "We had a really nice lunch and Mark was sweet but clearly not interested in our goal. This became clear when I suggested that a coordinated media strategy might lead to some radio play and he replied, succinctly, that radio play would be 'the last f**king thing I need!'"
After getting through the band history, the book also features 100 written contributions from industry and creative types, inspired by the music and art of Talk Talk. For me, it was a bit exhausting to get through this lengthy audience section. There are short sections breaking up the chronology written as accounts from the studio and live musicians involved. It's not so often you get so close to the recording process; it can be approached as musician dialogue or studio nostalgia. It may not be the subject for every music listener, but the insight of how-to and how-not-to-do guide for budding musicians, the graphic art aspects and lessons learned, are well worth the read!