KMFDM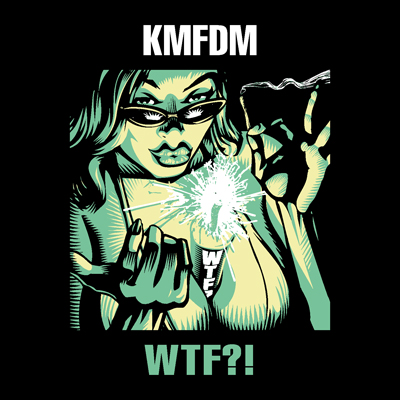 WTF?!
Format:
Album
Label:
Dependent
Release date:
May 29, 2011
By:
Johan Carlsson

Sounds like KMFDM. This is probably the best way to describe this album. It opens with the token ego-track "Krank" where they sing about themselves: "KMFDM is the drug for you!", and then continue with hard edge, industrial dance tracks with a fair amount of guitars on top. Par for the course in KMFDM land, then.
It feels very safe listening to this band, as you sort of always know what you will get. And there's nothing wrong with that. They've found their recipe and sticks to it, bringing the Wax Trax style groove to the public.
Constant band member Sascha Konietzko is joined by Lucia Cifarelli on vocals, Jules Hodgson and Steve White on guitars and Andy Selway on drums. Some guests are also present, including Free Dominguez from Kidneythieves (and Conjure One live vocalist), Sebastian Komor (Icon of Coil, Melt, Komor Kommande etc), Koichi Fukuda (Static-X) among others. Even the old KMFDM drummer Bill Rieflin joins in at times.
Together they have created a pretty solid collection of songs, even though it's a bit hard to tell them apart. "WTF?!" is not breaking any new ground, but it's pure workmanship, and quality.