Jon Hopkins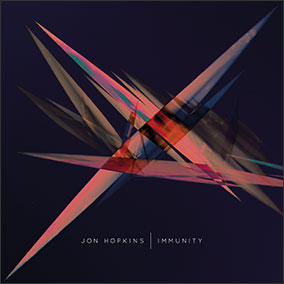 Immunity (Expanded Edition)
Format:
Album
Label:
Domino
Release date:
December 9, 2013
By:
Mike Whyte

"Immunity" was Jon Hopkins fourth album, so no excuse for not knowing him. For the uninitiated though, some details…
Jon Hopkins started out as a keyboard player for the band Imogen Heap, before turning his hand to music production – with Coldplay and Brian Eno sitting atop his many producer and contributor credits. He is used to receiving attention for his work too: his soundtrack for the film "Monsters" received a nomination for an Ivor Novello award, and "Diamond Mine", a collaboration with King Creosote was nominated for a Mercury Music prize. It is probably best to describe his tracks as soundscapes, as they are both intricate and dense as well as rhythmical.
To this new offering then, an expanded version of the album "Immunity". The first track is Autechre-esque – building up a groove from seemingly disparate industrial elements – a solid start that helps me warm to Hopkins cold clinical style. There is a quality to the musicianship here, which is evident in such little touches as pitch bending key lines as they play, and slightly fuzzy leads which remain clear and crisp to the listener. There are only 8 tracks over a 60-minute set, which tells you something about the length of individual tracks, and the fact they are left to breathe and mutate before they disappear. "Breathe This Air" has to qualify as my track of the album, and could well be my track of the year – it makes you move, is emotional, and ever-changing too – everything the self-respecting electronic music fan could wish for. There is very little here to criticise in fact, and deserves Hopkins to be known in wider circles than just the electronic fields, though it is maybe too genre-specific for this to happen with this album.
The extended version includes numerous remixes of "Open Eye Signal", a version of "Breathe This Air" with Purity Ring, as well as a video version, the rather excellent Pangaea remix of "Collider", with a video for "Open Eye Signal" finishing the set off. If you have the album already, the extras are maybe not worth buying again, but if not – get this for the Pangaea remix alone.
It is no surprise then to here that this album was also recently nominated for a Mercury Music Prize too – an album worthy of your attention.