In Strict Confidence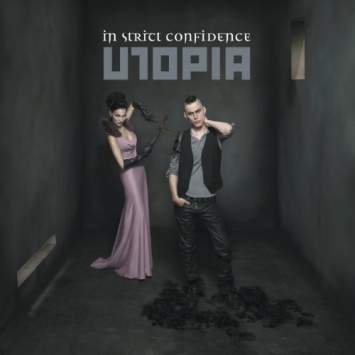 Utopia
Format:
Album
Label:
Minuswelt Musikfabrik
Release date:
October 9, 2012
By:
Johan Carlsson

In Strict Confidence released a string of excellent albums in the 90:s, but as many of their German siblings like Melotron and De/Vision it seems like the quality has waned lately. Although the music is well produced and professional, in all honesty, it's a bit boring. In Strict Confidence is trying to shake things up a bit with their latest release "Utopia", being poppier and more guitary at the same time. And a bit cheesier! The rock ballad "Forever and More" sung by Nina de Lianin wouldn't be out of place in the Eurovsion Song Contest, which might not be what you expected of ISC.
The quintet now consists of Dennis, Nina, Jörg Schelte, Stefan Vesper and Haydee Sparks, and it's pretty obvious that they're going for the charts this time. I have to say that they do mostly have the song writing skills to back it up, but in essence it's like a whole new band. It only bears a slight resemblance to the band that gave us classics like "Kiss Your Shadow" and "Industrial Love". It's very well done indeed, but it is a bit like someone have squeezed out the thing that made In Strict Confidence what they were, and left a more generic electronic rock band in its place. There's even a long guitar solo on "Silver Bells".
If you want catchy pop with a sprinkling of guitars with both female and male vocals this is the record for you, but don't expect anything that will be played in an industrial club.