Henric de la Cour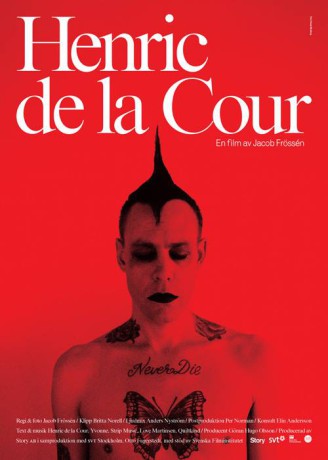 A Film by Jacob Frössén
Format:
DVD
Label:
Progress Productions
Release date:
October 17, 2014
By:
Peter Marchione

A couple of years ago Swedish director and graphic designer Jacob Frössén produced a well received documentary of the national indiepop icon Olle Ljungström. Now he presents a very intimate portrait of another independent Swedish artist, with a somewhat darker image; Mr Henric de la Cour.
While this DVD is almost synchronized with the brand new 7" vinyl of "Chasing Dark / Hidden Sleeve" one must emphasize that this main theme of this documentary is not about music. Of course, there are plenty of live clips, studio session shots and backstage footage too but the focus is definitely the illness – not the music.
Since being diagnosed with Cystic Fibrosis as a child, de la Cour has been living with this illness – or even been the illness as he puts it himself. In this film we get a 4 year snapshot of the everyday existence of the man behind the lyrical concept of not only his own solo releases, but also Yvonne and Strip Music. While the medical treatments of CF have developed rapidly in the later decades one must keep in mind that when the very young de la Cour got his diagnosis the expected lifetime with this disease was approximately 15 years. Frössén presents an everyday life where this approximation continuously gets prolonged until finally, at the age of 40, Henric de la Cour is presented with some miracle cure that is to wipe the premature death sentence away altogether.
We get a very raw and honest picture not only supplied by the artist himself but also family members and close friends (e.g. Christian Berg of label band mates Kite and Yvonne members David and Rikard Lindh). The combination of the sources gives an uncensored picture of the human individual behind the decadent image that, according to de la Cour himself, might have been created in a fit of escapism.
I highly recommend this film to anyone interested in the mental blueprint of this artist's lyrics, but if you wish to keep the theme of his songs open to your own interpretations you'd might consider skipping it.
Footnote: the DVD has English subtitles and is region free.