Haujobb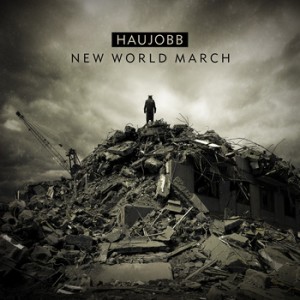 New World March
Format:
Album
Label:
Zweieck
Release date:
November 25, 2011
By:
Johan Carlsson

After a long hiatus Daniel Myer and Dejan Samardzic have finally got together again to create sonic wonderlands under the name Haujobb. And what a comeback! This is one of their best albums, and also a bit of a departure. "New World March" is more song oriented and not as experimental or free flowing as some of their earlier work. It also sounds a little as if Daniel has snapped up some on or two things from touring with Alan Wilder, as the style and ambience is just a little more epic and grand.
To me, this album is a sort of sequel to the groundbreaking album "Solutions for a Small Planet", and it's very clear now that Haujobb is one of the most innovative bands in the so-called industrial genre. Although I'd be hard pressed to call "New World March" industrial actually, it's more of a dark, twisted and high-tech version of synthpop. Daniel Myer is also one of the few artists in the scene that is openly influenced by other genres like dubstep, minimal house, breakbeat and such. This gives Haujobb a much wider spectrum to work with than other scene bands.
Daniel's and Dejan's production skills have always been second to none, and they're still on top of their game. These two renegades of noise manages to cram a lot of emotions, moods and lust for exploration into their music, and even though I haven't yet got access to the lyrics, I can at least state that Daniel's vocals sound better than they have for a long time.
This is indeed a splendid return for Haujobb.