Haujobb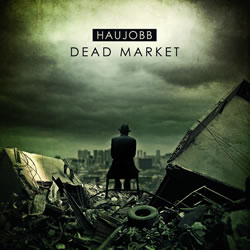 Dead Market
Format:
EP
Label:
Tympanic Audio
Release date:
June 27, 2011
By:
Johan Carlsson

It's been a long time coming, but finally Haujobb has returned. Dejan Samardzic and Daniel Myer have released some truly landmark stuff in the industrial genre such as the stunning album "Solutions for a Small Planet", and have been on an extended hiatus for quite a while. Since 2005 in fact, when "Vertical Mixes" was released.
Now the two renegades of noise have teamed up together again, and created "Dead Market" – the first single off the new album "New World March". As before, Haujobb dares to change the sound once in a while, and this is no exception. This time they've gone for a more "classic" sound, which means it has a more conventional structure with verse, chorus etc. It's a Haujobb pop song. Unfortunately it's not as densely layered is their older output, but it sort of grows on you. Daniel's voice is better too.
It's not a great single, but I like it. The remixes add nothing much to the proceedings, other than the Nomenklatur remix which transforms "Dead Market" into a sweet, dark, minimal house stomper.
There's also another new song on the EP, "Letting the Demons Sleep" which might not have been that out of place on "Freeze Frame Reality". And that is good praise indeed. Bring on "New World March".