Grimes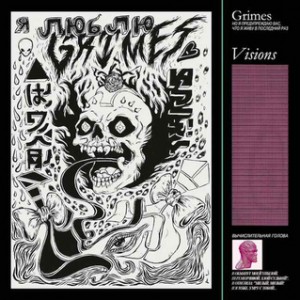 Visions
Format:
Album
Label:
4AD
Release date:
January 31, 2012
By:
Johan Carlsson

"Visions" is the third studio album by Grimes – aka Claire Boucher, a 24 year old from Vancouver and Montreal, Canada. The music is a bit hard to categorize, but is usually filed under "witch house", you know that weird, ethereal electro pop genre that really hasn't got much to do with house. Soft, undulating voices on top of quirky beats and bass lines.
As with Lights (another female musician from Canada), Grimes is a one-woman project, creating music with an assortment of electronic gadgets. There seems to be an influx of young, talented women who create electronic music these days, in Canada and elsewhere, and this is a very good thing. Compared to Lights though, Grimes is decidedly much more underground and has tons of indie-cred – more like Austra.
The album is a bit hard to get into at first, but unveils itself after a couple of listens, and you start to discover the songs. The songs themselves are however a bit too formless for me, and the vocal melodies are usually so fluffy they just sort of "exist". There is something intriguing about it though, because I keep coming back to some of the compositions, such as "Oblivion" and "Circumambient". The rest are a bit of hit and miss, unfortunately.