Front Line Assembly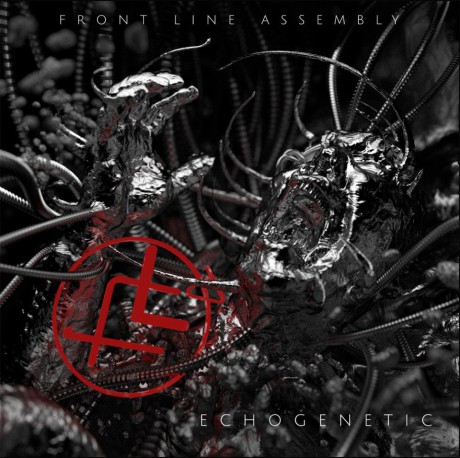 Echogenetic
Format:
Album
Label:
Metropolis, Dependent
Release date:
July 9, 2013
By:
Johan Carlsson

Front Line Assembly can be seen as an experiment in how to keep your sound up to date. Once in a while the lineup changes and becomes younger (except for constant member and founder Bill Leeb of course) and so the new crew can bring in modern sounds and styles. Bill Leeb and his merry men – Jeremy Inkel, Jared Slingerland, Sasha Kevil and Craig Johnsen this time around – have always let other genres of music influence them; be it metal, breakbeat, techno or indeed dubstep as on "Echogenetic". All the while maintaining their own trademark sound in the process.
So just let's get it out of the way then: no, "Echogenetic" is not an all out dubstep album, it's merely influenced by it. There are "wub wub" sounds to be found, but you will have no problem discerning that it's an FLA album. It's a great mix between old and new. It's an all electronic album for the first time in a long while, and as usual it's a technical marvel. Noises, samples, sequences, pads and beats hurl themselves in a blur towards you while you listen, and the sound is as heavy as ever. Possibly even heavier! "Killing Ground" just explodes out of my speakers with its mega-fat Bill Leeb bassline ™ and ultra heavy beat. It's like the rawness of their older material mixed with the sounds and production values of today. Simply breathtaking, and I was smiling like the Cheshire cat when I first put it on. This will tear apart many dance floors, but I fear my neighbours might tear me apart instead…
And as if that wasn't enough, soon after that, "Deadened" comes along. A classic FLA track almost reminiscent of something from "Tactical Neural Implant", with Bill's vocoder voice twisting and turning on top of a cybernetic bitstream of pure awesomeness. In between these songs lie "Blood", a chilling midtempo masterpiece with a scary, claustrophobic ambience that momentarily lifts when the chorus arrives.
I won't go on about each and every track, but there's lot to discover on "Echogenetic". Another sublime moment for example happens at 5:51 in "Exo" where this slow and moody track ascends into the upper echelons of electronic music when suddenly soft, but at the same time all-encompassing pads show up and brings the song to its shimmering end.
There's also some influences from FLA's "Airmech" soundtrack, especially in the intro track "Resonance", but also in other places. FLA's music has often had a cinematic quality to it, mainly from the use of movie samples (which are sadly missing here) but now it's more pronounced.
My only complaint is that I actually miss some of the brilliant melodies FLA used to spoil us with. The choruses here aren't quite at the same level we're used to, instead the focus seems to be more on a soundscape cooler than anything, and blowing our brains out with an electronic maelstrom. Some tracks such as "Leveled" and "Heartquake" are not at the same level as the others, however they're are growing on me with each listen. "Echogenetic" is still very powerful, and a worthy addition to the Front Line Assembly canon.