Front Line Assembly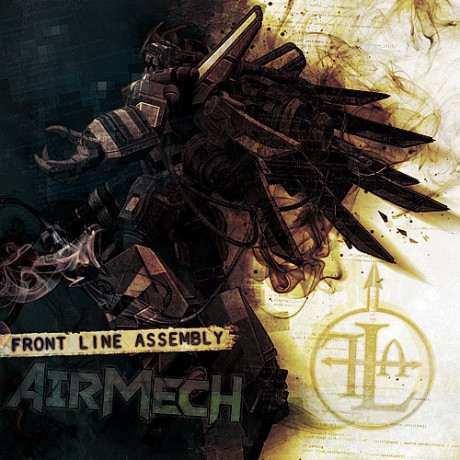 Airmech
Format:
Album
Label:
Dependent
Release date:
November 18, 2012
By:
Johan Carlsson

Bill Leeb and his band Front Line Assembly has dabbled with game soundtracks before when they did music for "Quake III: Arena" back in 1999. For a guy who has openly talked a lot about wanting to make soundtracks, it seems odd that Bill hasn't done this more, but now it seems the stars have aligned once again. "Airmech" is a free to play real time strategy game where you control Mech robots in the Great War, and FLA really does sound like the perfect fit for such a game with their mechanical beats and vision of a dark cybernetic future.
Turns out they really are a perfect fit, as it's an excellent piece of work. The songs on this soundtrack steer away a bit from the usual hardhitting industrial sound of FLA, aiming for a calmer, more moody feeling. It's all electronic and instrumental music interspersed with some new twists like dubstep, but still retains the classic Leeb ingredients such as strings, beautiful atmospheres, heavy bass lines and fat beats. Listen to "Stealth Mech" and you'll see what I mean. The star of the show though is the opening title track "Airmech" which is evidence that they are capable of creating grand themes suitable for movies. It opens tentatively before growing into a stunning and powerful orchestral overlord with exquisite chord changes and delicate strings. It's been playing almost non stop since I've received the album.
The band roster has been changed around a bit for this release. In addition to the regulars Bill, Jeremy Inkel and Jared Slingerland, we also see contributions from newcomers Craig Johnsen and Sasha Kevil. Keeping the line-up fluid is a good way to get new influences and so far it's working out well. It looks promising for their upcoming all-electronic "back to the roots" album they're working on as we speak. In addition to that, I'm hoping that they pursue the soundtrack career a bit more than in the past. It seems Hollywood love electronic soundtracks these days, with Trent Reznor, Orbital, Daft Punk and The Chemical Brothers, M83 etc all creating music for movies lately.
 If they should continue on this path, at least now we know they're really good at it.