Flying Lotus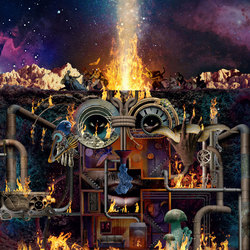 Flamagra
Format:
Album
Label:
Warp
Release date:
May 24, 2019
By:
Mike Whyte

There are not many as prolific as Flying Lotus. In the time since he produced his last album. 2014′s "You're Dead!", he has performed extensively at many festivals, produced Kendrick Lamar's "To Pimp a Butterfly", produced a film, and written the soundtrack to the short film "Blade Runner Black Out 2022″, all while running his own Brainfeeder label.  If you include also his acting, rapping and appearances on other people's albums, as well as all of the things we don't know about yet… well, you see: prolific.
The variety across this 27-track record is incredible, not surprising considering the number of invited artists. It reads like a who's who of musicians from past and present – you can find Anderson Paak, George Clinton, Herbie Hancock, David Lynch, and not to mention Sweden's own Little Dragon.
There's too much material to look at every track in depth here – so some highlights. First up, I love "Post Requisite", with its lazy swagger and soulful psychedelia, and at a trim 2.12 it doesn't in any way outstay its welcome. "More", featuring great vocals from Anderson Paak too, this track has some seriously heavy basslines. "Capillaries" shows perfectly how this young musician can create a rhythm out of seemingly anything, and "Burning Down the House" has George Clinton performing on a track Funkadelic would be proud to call their own.
"Spontaneous" seems perfect for the vocals of Yukimi from Little Dragon, and the way the track floats around her definitely shows a different quality to both performers. Last but not least, "Black Balloons Reprise" takes it for me as track of the set, with "Takashi" a close second.  It is fierce, yet thoroughly listenable, and gives me hairs on the back of my neck whenever I hear it. "Takashi" is such a hyperactive track you wonder how it all manages to stay together – the number appears to almost do cartwheels over itself at some stages.
The thing that makes FlyLo (as he is affectionately known) stand out is he is adept at almost any style of music you care to throw at him – from jazz to electronic, soul to rap, not including the many in-between genres he just seems to knock up at will. The guy is like Aphex Twin and Prince all rolled into one.