Doubting Thomas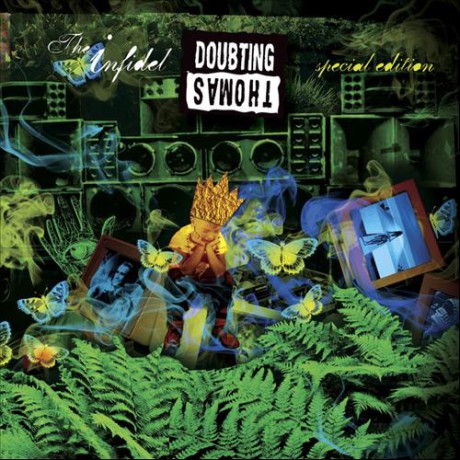 The Infidel (Special Edition)
Format:
Album
Label:
Metropolis
Release date:
February 15, 2013
By:
Johan Carlsson

When Cevin Key and Dwayne Goettel were busy in the studio working on Skinny Puppy tracks they noticed that sometimes they would create songs with a different feel to it, songs that didn't fit in with the Skinny Puppy aesthetic. They started to collect these tracks on a separate tape, and after a while they had enough songs for a whole album, and more. They decided to call the project Doubting Thomas and released "The Infidel" and the EP "Father Don't Cry", both in 1991.
It's pretty hard to describe the sound of Doubting Thomas but imagine a more mellow, instrumental and intensely cinematic Skinny Puppy and you're getting close. Every track is a journey into the unknown, and there are lots of movie samples scattered throughout which brings even more ambience, while strings, piano and exotic, weird noises add the final touch. The most impressive thing about "The Infidel" is actually just how skilled Dwayne and Cevin are at creating moods, and wringing emotion out of their machines. It's not the sort of claustrophobic, frightening and chaotic feeling of a Skinny Puppy album, rather it's a warm, beautiful, always fascinating and evolving place to be, but also with a constant sense of darkness lurking at the edge of your vision. Truly remarkable music, showcasing groundbreaking musicians at the top of their game.
As you might have gathered by now, this is one of my all time favourite records, and I'm glad that Metropolis is now re-releasing the album and EP together, plus a few previously unreleased tracks that were recorded at the same time. The music has been remastered and thus sounds better than it has ever done. It sounds fantastic on a decent system, and the added material offers further intriguing listening, although it's a massive undertaking listening through 26 tracks.
The music on this album has stood the test of time very well I think. While you can hear that it's coming from a certain era because of some dated sounds, the fact that so many contemporary musicians are inspired by it makes it still sound fresh.
Even though this project is a side note in the Skinny Puppy story, it's very close to my heart and any fan of industrial or electronic music should have this in their collection.