Distel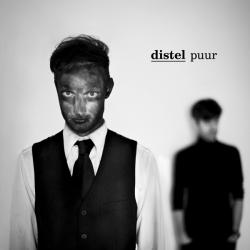 Puur
Format:
Album
Label:
Ant-Zen
Release date:
February 12, 2015
By:
Mike Whyte

Distel is an electronic duo made up of two Dutch creators: Aeter on synths and vocals, and Scramasax on percussion duties. This is their debut album, brought out again by Ant-Zen after having previously been released by Enfant Terrible in 2013. They had already had some releases previously published on compilations. They describe themselves as "ultra/angst pop".
It is interesting in parts; the sound is very, very electronic – industrial even. Comparisons can quite easily be made to Autechre, the music sometimes has the same kind of intensity, though the mood is much darker.
The second track "Tide", along with last track "Fand" have almost elements of rave in their DNA, though you wouldn't be putting your hands in the air or waving glow sticks to these, I feel… Saying that though, they're nice tracks, and "Tide" building in intensity to screeching machine noises is a nice touch.
The sounds used across the album are very well thought out, making for a very interesting listen. "Amne", is a good example of this sonic exploration. It partners ghostly synth wobbles with searing electronics and Aeter and guest vocalist Najah's vocals, creating something genuinely spooky, yet easy to listen to also – an interesting contradiction. "Sarc" does a nice u-turn too, as I wasn't into it at all up to half-way, but the change of direction the track goes into was quite cool.
"Hxxx" is probably my favourite blend, it has tinny drum hits, gloomy spoken vocals and rave stabs that build into a weird alien techno track – as if a 303 had been left in the house from the Exorcist and become possessed. "Vann" would come a close second, thanks to its very soundtrack-like space ambience, it sounds like the workings of a spaceship under distress drifting off into space.
Oddly, the title track (amongst a couple of others later in the album) left me cold. It just seemed a little bit messy, as if too much was trying to go on at the same time, destroying the mood of some of the other pieces.
An interesting debut, and one that would make me quite interested to see what the live show would be like, but not something I could comfortably listen to repeatedly. But then maybe that's the idea.