Destin Fragile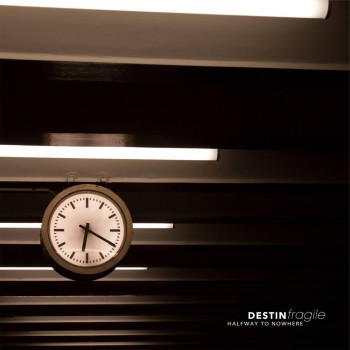 Halfway to Nowhere
Format:
Album
Label:
Scanner
Release date:
May 8, 2015
By:
Johan Carlsson

Before Spetsnaz, there was Destin Fragile – initially a synthpop solo project with Spetsnaz mastermind and vocalist Pontus Stålberg. Mikael Norell was a member for a short while in the early days and Pontus hired live musicians when needed. The name was taken from the instrumental Desireless track.
A couple of demos were made and Destin Fragile appeared on the compilations "Circuit One" from Eternity Records and "It Never Happens to Me…  - A Vince Clarke Substitute". Then Destin Fragile went into a looong hiatus and EBM duo Spetsnaz came into being. This mean it's taken over 20 years for the band's debut album to arrive.  Since the late 90:s, Daniel Malmlöf and fellow Spetsnazian Stefan Nilsson are part of Destin Fragile, which is a proper band nowadays.
I was a bit surprised to hear Pontus' vocals here, as I'm so used to hear his aggressive body vocals, but he's got a great synthpop voice too as some of you probably know. No old songs from the early demos are included here, the album was written during the past two years specifically for this project, so there are no leftover Spetsnaz tracks that didn't fit for example.
The problem is that Destin Fragile, just like Spetsnaz, don't really have a sound of their own. "Halfway to Nowhere" is very much inspired the likes of Depeche Mode and And One, which mean it's classic, melancholic 80:s influenced synthpop with lots of focus on the vocal melody and layering lots of bleeps and bloops. Luckily, they have enough talent to make it interesting anyway, with solid songwriting and production. The album keeps growing on me.
I have to say, I think I prefer Pontus and Stefan in synthpop mode.