Delerium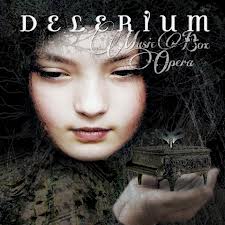 Music Box Opera
Format:
Album
Label:
Nettwerk
Release date:
October 30, 2012
By:
Johan Carlsson

This Delerium album has been a long time in the making. Other than the acoustic album with reworked old songs in 2010, the last full length "Nuages du Monde" came out in 2006. During this time there have been a change to the roster, when Front Line Assembly and Left Spine Down programmer/producer/remixer Jeremy Inkel came on. Rhys Fulber is still involved though, and for "Music Box Opera", duties have been split almost halfway between Leeb/Inkel and Leeb/Fulber. This could have splintered the album, but it holds together as a unit very well.
So, what does it sound like then? Well, I'm sorry to say that I'm not very impressed with this album. Yeah, I know the Delerium of today is nothing like the Delerium I started to listen to in the nineties, although I really like some of the poppier tracks from recent years as well. "Nuages du Monde" had some really great songs. The problem is that "Music Box Opera" sounds a bit impersonal and blasé. The songs just don't get to me at all. Most of them are slow, and have a hard time creating any sort of momentum. They're content with lumbering on without any care in the world. Light, airy female voices soar on top, but they go right through me.
I know I shouldn't be disappointed, as this is clearly the direction Delerium has been taking for quite a while, ever since "Silence" became a worldwide hit. The problem is that we've been getting hints that there would be a darker, trip hoppy sort of sound this time around. Instead it's more commercial than ever. The upcoming single "Chrysalis Hearts" is full on radio pop and is indeed very catchy, but doesn't really fit in with the rest of the album which is a lot more laid back. And "Hammer" is quite possibly the worst song Leeb has ever put his name to. To be fair, there are good tracks too, such as "Days Turn Into Nights" – which is special because of the male vocals by Michael Logen – as well as the title track "Music Box Opera" which is one of two instrumentals and meshes the old school ambient style with modern sounds.
It's possible I would write an entirely different review if I wasn't such a fan of Bill Leeb's previous work, but I have to compare it to the previous Delerium albums where songs managed to get hold of you and stir up emotions. As usual the music is exquisitely well produced and executed, but it's not what I'm after. For the first time with a Leeb album I've had to almost force myself to listen to it, because there's other stuff I'd rather listen to instead. Maybe I've just grown tired of this sound, but I think that If you're coming from the industrial/electronic camp you will probably write this off completely. I'm hoping Bill Leeb brings out a new side project with more ambient and darker material, because I miss that side of him. The samples from the upcoming FLA soundtrack sound very promising though, so I'll wait for that and bide my time.