Covenant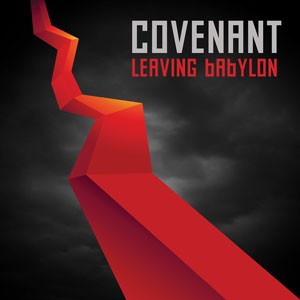 Leaving Babylon
Format:
Album
Label:
Dependent
Release date:
September 6, 2013
By:
Johan Carlsson

Covenant have really managed to establish a unique sound, and what's even more impressive is that they managed to do it already on their first couple of albums. It's still very evident today, and the successful blend of Eskil Simonsson's voice, thoughtful lyrics and influences from techno, EBM, trance, pop and experimental music is very much present on "Leaving Babylon". It's unmistakably Covenant, and I mean that in a good way.
The band lineup has changed around a bit though, as Daniel Myer left after "Modern Ruin" to focus on his own projects, even though he has co-written a couple of tracks here. Now co-founder Joakim Montelius is a studio-only member, and live member Daniel Jonasson – member of Dupont, DJ and Stockholm organizer – has joined the band properly, together with Andreas Catjar.
At first glance you might think that this is just more of the same, but I think the songwriting and lyrics are stronger now than. "Thy Kingdom Come" stands out and is an example of their talent for making epic, sweeping dance tracks with a rousing chorus where Eskil is almost trembling with emotion. The big surprise for me though is the track "Ignorance & Bliss", which I think could well be a hit if they made a shorter radio version of it. The verse is still very much Covenant, but it totally transforms when the chorus arrives, rebuilding it into a grand pop song somehow both melancholic and uplifting. Other than those we are served both slower and dancier material, all sonically interesting and with intriguing lyrics to boot.
Some songs are quite old, as far back as from the "Northern Light" era, but to me they all gel together very well, making "Leaving Babylon" a cohesive and strong album. There are a lot of new favourites to be found, and presumably many of the darker clubs will deploy several of the songs on here when they want some action on the floor. Let's hope that the band now stabilizes and continues to bring us their unique vision of electronic music.
I have graded the standard edition but a special mention has to go to the bonus track "Jag är fullständigt tung" ("I'm completely heavy") on the second disc of the limited version though. It's a completely insane spoken word and ambient piece that's an hour and 16 minutes long. It's a poem from Helena Österlund that Eskil has treated and put on top of a midnight cityscape and some strings. It's an ambitious track, and I'm not nearly literate enough to analyze it properly, but I'm pretty certain it will not be one of my most played tracks from "Leaving Babylon". And that's probably not the point either.