Combichrist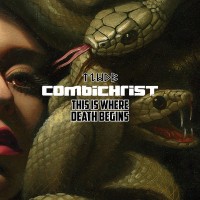 This is Where Death Begins
Format:
Album
Label:
Out of Line
Release date:
June 3, 2016
By:
Johan Carlsson

Combichrist's transition into industrial metal is now complete. This album is heavy as a really heavy thing, filled to the brim with Ministry style chuga chuga guitars, electronics and Andy LaPlegua's husky, screaming vocals. And I have to say they do it well!
The synthesizers are not forgotten, they're just used a bit differently, and act as a foundation to build on. Songs are still using monotony to great effect, becoming almost hypnotic as on "Don't Care How You Feel About It" which is a highpoint of the album together with "Exit Eternity", perhaps the heaviest track on here complete with a dramatic choir in the chorus. The lyrics are still a bit iffy with a lot of angst, but they serve more as something to shout to the music anyway.
Clocking in at 15 tracks, "This Is Where Death Begins" does get a tad too much towards the end, but there's enough variation to keep me going. I can understand if old Combichrist fans are a bit miffed about this new direction, but I'm glad they dare to venture outside the box.