Chvrches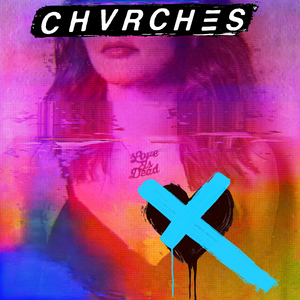 Love Is Dead
Format:
Album
Label:
Virgin EMI
Release date:
May 25, 2018
By:
Mike Whyte

A strong title this time out from this Glaswegian trio. "Love Is Dead" presents Chvrches in defiant mode – up for a fight if you like, however the music is poppier than ever. They brought in a famous external producer this time around: Greg Kurstin (Adele, Ellie Goulding, Pink, Foo Fighters, the list goes on) and Spike Tent, who has worked with Depeche Mode, Moby, Björk and Grimes, did the mixing.
There are some great moments here, and some big singles potentially – "Get Out" is as big a song as I have heard them do, and rightfully the first single. Another corker is "My Enemy", sung in collaboration with Matt Berninger of The National fame. Both show a level of polish and gloss that has maybe superseded past efforts, and are truly great pop songs. But what about the rest?
Well, more of the same really, "Forever" is another poppy solid synth track, with great vocals, both raw and effected from lead singer Lauren Mayberry. She hasn't sounded better in fact. The arrangements are also solid, and the sonics cold and calculated. Whether the contrast of the warmth of the voice with the cold 'steel' of the synths will help to convert more to this talented group, only time will tell – for established fans like this readership (me included) will lap it up.
"Never Say Die" is full of intense emotions and insistent synths, it is powerful and dramatic, and makes you listen. "Miracle" does all of this and even more – for me their best song to date. Initially it feels like Mayberry is pressed up against your ear such is the intimacy of the singing, then the music kicks in like ten ton weights being dropped from the sky. If this is pop, it is the most brutal and raw I have heard in a long time – instantly my favourite Chvrches song ever.
"Graves" isn't. Putting it straight after the avalanche of a track that came before really does it a disservice. It is not a bad track, and the song, believed to be about the death of Syrian refugee Alan Kurdi, is very honest and sincere. But musically it feels "light" straight after a song of such intensity. In a world where shuffling and selecting tracks is the norm this may not matter at all, but for me it is like putting Miley Cyrus on after Depeche Mode have finished playing; both talented in their own right, but unlikely to share a bill.
This album feels a bit strange to me, as some of the tracks are amazing, and make me love Chrvrches more. Some of the tracks if I heard them I may not even think of as Chvrches songs, rather just more faceless pop. I wish them all of the success in the world, as they truly are a talented trio. But please don't lose what brought you to our attention in the first place – synthpop with a heart.