Assemblage 23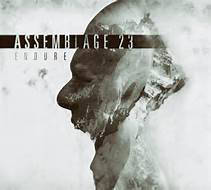 Endure
Format:
Album
Label:
Metropolis
Release date:
September 9, 2016
By:
Johan Carlsson

Tom Shear has written some great songs through the years. His project Assemblage 23 is one of the mainstays of the so called futurepop genre since the debut "Contempt" in 1999, and this latest album "Endure" is the result of a successful crowdsourcing campaign. It's been four years since the previous album "Bruise" and nowadays the style is mostly regular synthpop and EBM albeit with that certain A23 touch.
Tom's weak spot is his voice, which is not very expressive and sounds pretty rough at times. I'm sorry to say it, but it drags the record down a bit for me which is a shame because there are a bunch of good songs on here even though they don't push any boundaries. He's moving in quite safe soundscapes, and doesn't veer too much from the beaten path.
Tracks like "Static" show that there's still life in A23 and Tom's voice sound great here too. Together with the gem "December" – a fantastic dance floor stomper which is saved for last on the album – they are the songs closest to future classic status methinks. But overall the "Endure" tracks do sound like we've heard them before. Which is nice if you're a fan of Tom, of course. So, this album might not bring in many new fans, but I think it'll please the existing ones.